Hello, guys.
I was thinking about some interesting variations to mechanics from Age II that people are expecting to be brought into Age I, like scouts and formations, but haven't seen this being discussed in much depth so far.
Historical context is always taken in consideration by the devs when thinking on new techs and mechanics, for preserving the game's coherence with its historical setting as much as possible - from a gameplay point of view - for a better immersion. Scouts and Formations, for example, should be added to Return of Rome in a unique way, then!
Some people have suggested that Scouts should be included in a match start, like in Age II.
Nevertheless, it doesn't make sense to add Scouts in a Skirmish game that begins in the Stone Age, simply because in the Stone Age horses were not domesticated yet!
I would suggest that a new unit should be created for this function, like an "Explorer", for example - a guy dressed in furry clothes accompanied by a dog, that moves in the speed of the Eagle Warrior, that only appears in Skirmish games that begin in the Stone and Tool Ages and cannot be trained. Like this Scout unit from Empire Earth II:

About Formations, it makes sense for units in the Stone and Tool Ages to move like messy warbands, for historically it was only around the Copper Age that things like army divisions and formations began to show up.
Then, it should being researchable only in the Bronze Age, in the Government Center (or Academy), with a "Battle Formations" tech.
Age I never had a land unit for land commerce. In Age II, Trade Carts are created in the Market, but in Return of Rome the devs could implement the Trade Workshop (which only exists in the Editor) for this purpose!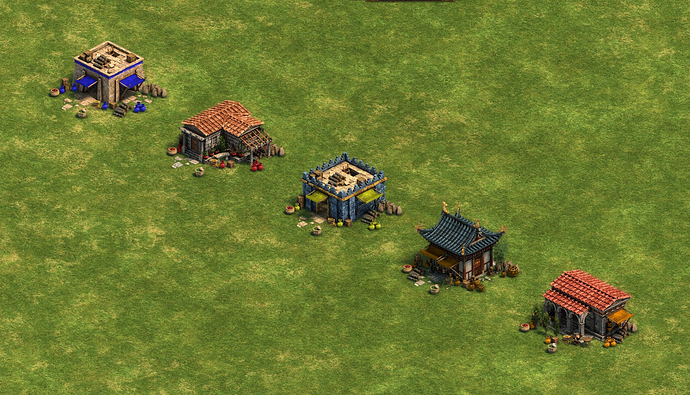 Thinking about garrisoning, Age I Town Centers looks more like town plazas than administrative buildings like in Age II, so imagining arrows coming from them might look visually strange, but that's a little graphical trouble.
I have wrote this post already on the Age of Empires II: Definitive Edition Getting Return of Rome DLC thread and now decided to turn it into a new topic, so to hear your thoughts on the subject!