Hi all,
What my friends and myself, as just average players experience, is a lot of French Royal Knights. Like a lot a lot (a lot). For most factions we from time to time see a lot of mangudai. Or perhaps a lot of camels. Even mass MAA from HRE. But nothing is as predictable as French going knights. Nearly pure knights. Every. Single. Time.
It seems that it is not even remotely relevant (1) what game type such as 1on1, 4on4, FFA or anything in between and (2) the faction of the opponent nor (3) the map. In fact, even (4) from feudal to imperial the logic seems to just keep spamming knights. Strat of the enemy? (5) just overwhelm it with more knights. Spears? Circle them, cause a split and then engage. No other faction spams knights till beyond the horizon like the French do.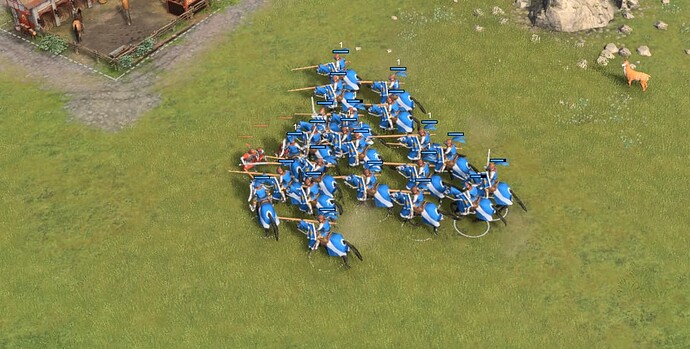 Of course the world is not that simple and I'm dumbing this down to the conceptual point I'm making; but for the love of god every time I see French on the loading screen, regardless if it is 2on2 on dry Arabia or a 4on4 on confluence, I know my screen will be swarmed with French royal knights. No exceptions. The reason I don't mention 1on1 is because resources typically don't allow "swarms" so there we just see "hordes"…
Their auto heal, their speed (both in movement and the fact they can be produced early on) along with scaling upgrades over all ages… man, this is dreading to play. I'm not offering a solution. I'm not sure about the balance (in high level competitive play). I'm just signalling it as a member of the large middle group of the bell curve. I know people will be like "make walls", "just go spears"; but that is not the point I'm making. None of these effectively mitigate the versatility of the royal knight (which we know empirically due to the fact they are still spammed like popcorn in a microwave).
No other faction than French seems this unidimensional. Of course one faction will always be the most; but does it have to be with the landslide distance to the number two that it currently is? Wondering what others think on this.