GAME INFORMATION

These details are CRITICAL; DO NOT skip them or your issue may not be reviewed.
GAME BUILD

#:

current
GAME PLATFORM: Steam / Microsoft Store
OPERATING SYSTEM: Windows 10 / Windows 8 / Windows 7 / Mac / Linux
ISSUE EXPERIENCED

DESCRIBE THE ISSUE IN DETAIL (below). LIMIT TO ONE BUG PER THREAD.
Could be a design thing but I want to note it here just to make sure
the fulani migration tech enables the long range attack which can get up to like 24 range iirc


but Fulani LOS base is 20 and isnt improved by anything but the town watch tech Mosque tech which requires going both morrocan and fulani age up and it still missing like 1 LOS i think
so the fulani lacks the LOS to use its long range attack unless you do funny LOS tricks
FREQUENCY OF ISSUE

How often does the issue occur? CHOSE ONE; DELETE THE REST!
100% of the time / matches I play (ALWAYS)
REPRODUCTION STEPS

List CLEAR and DETAILED STEPS we can take to reproduce the issue ourselves… Be descriptive!
Here's the steps to reproduce the issue:
EXPECTED RESULT

What was SUPPOSED to happen if the bug you encountered were not present?
IMAGE

ALWAYS attach a PICTURE (.jpg, .png, .gif) or VIDEO (.mp4, YouTube link) that highlights the problem.
fulani long range attack is 24 range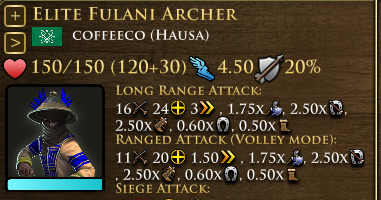 fulani LOS is 20