Firstly lets start with the source (This video is linked with the timestamp):
Bottom right hand corner you can see the minimap which is fully revealed (I don't think this is the case in any of the videos posted through official channels), I think I have managed to derive a few things that are not be immediately obvious.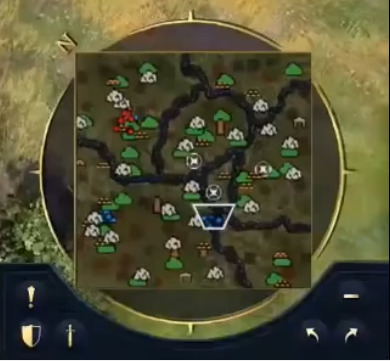 Resources:
Stone (Looks like a rock symbol)


Wood (Looks like 5 logs stacked, looks more rounded compared to the gold symbol)


Gold (Looks like 5 gold bars stacked, looks flatter compared to the wood symbol)


Berries (Green bush)


Game/Deer (Looks like a tanners symbol/ hunting location)

I think we can somewhat see this symbol again here, but due to the quality of the video I take the screenshot of it could be my eyes playing my games with me - but I think I can see this Game/ Deer symbol crossing over the border of the players vision window


Neutral Markets/ Trade posts (?)

I think I have semi confirmed this theory with the following screenshot, note the market has no team colours:


Relics

This is also confirmed with the following, you can't really see it on the minimap unless you zoom in on the screenshot, but it looks like a similar relic symbol as per the screenshot above.


Obelisk(?) Sacred site(?) - I can only see two of these on the minimap which has led me to think these are possibly the sacred sites on the map with 1 within easy reach of each player OR this could be unique to a Civ that hasn't been revealed yet?

What are your thoughts? I'm still in two minds about wood having specific areas where it can be chopped so I can't but sure if I want this to be true…