GAME INFORMATION
GAME BUILD

#:

62085 8752729 (if the latter number means something)
GAME PLATFORM: Steam
OPERATING SYSTEM: Windows 10
ISSUE EXPERIENCED
Since yesterday evening, when I tried playing on the new patch, my game has randomly crashed 3 times, with a blue screen of death following about a minute after that. In the brief period of time between the game crash and the windows crash, I was unable to launch the game again (said that DirectX 11 is missing, but that doesn't mean much, as it gives that error in a lot of cases, and a PC restart fixes it).
FREQUENCY OF ISSUE
75% of the time / matches I play (ALWAYS)
Well, it happened 1 time while trying to get in a game myself, during the loading screen of the map itself, and 2 times when attempting to spectate a game. I have been able to play exactly 1 game without it happening. Spectating isn't possible.
REPRODUCTION STEPS
Here's the steps to reproduce the issue:
Open AoE2
Launch a game or a rec
It crashes
EXPECTED RESULT
Not crashing, I guess
IMAGE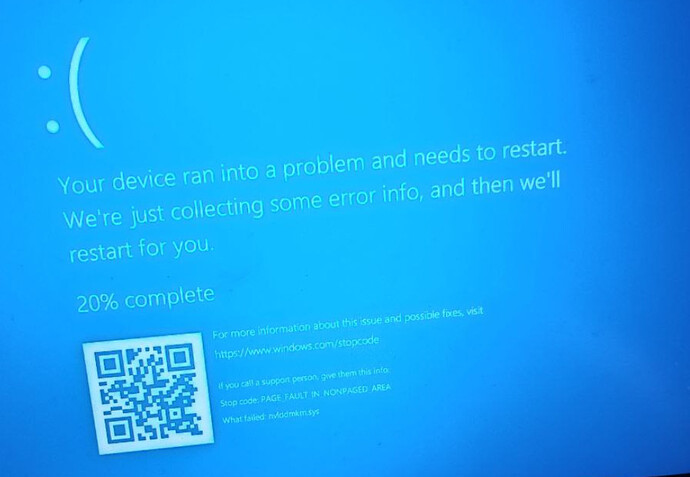 The important part is:
Stop code: PAGE_FAULT_IN_NONPAGED_AREA
What failed: nvlddmkm.sys (I believe)
GAME FILES (SAVE / RECORDING)
MP Replay v101.101.62085.0 @2022.06.04 130303 (1).aoe2record (971.3 KB)