GAME INFORMATION

These details are CRITICAL; DO NOT skip them or your issue may not be reviewed.
GAME BUILD

#:

11771158
GAME PLATFORM: Steam
OPERATING SYSTEM: Windows 11
ISSUE EXPERIENCED

Game does not launch at all. Launching the game from Steam or double-clicking the A0E2DE_s.exe file from \Program Files (x86)\Steam\steamapps\common\AoE2DE seems to do something for a couple of seconds but then goes away. I have tried adding the entire AoE2DE directory to Norton Antivirus exception list. My event viewer shows a number of entries like the following:
Failed to add certificate to Third-Party Root Certification Authorities store with error: Access is denied.
No more details are given about which cert(s) it is referring to.
I have tried reinstalling the game, reinstalling Steam, checking game files integrity, launching Steam as administrator - nothing works.
Game log (\Users<username>\Games\Age of Empires 2 DE\logs) shows:
Initializing Time System
Initializing Command Line
Problem with installation detected.
Exiting with code 0
FREQUENCY OF ISSUE

How often does the issue occur? CHOSE ONE; DELETE THE REST!
100% of the time / matches I play (ALWAYS)
REPRODUCTION STEPS

List CLEAR and DETAILED STEPS we can take to reproduce the issue ourselves… Be descriptive!
Here's the steps to reproduce the issue:
Launch the game directly or from Steam.
Nothing happens
Event Viewer shows above error.
EXPECTED RESULT

What was SUPPOSED to happen if the bug you encountered were not present?
Game should launch
IMAGE

ALWAYS attach a PICTURE (.jpg, .png, .gif) or VIDEO (.mp4, YouTube link) that highlights the problem.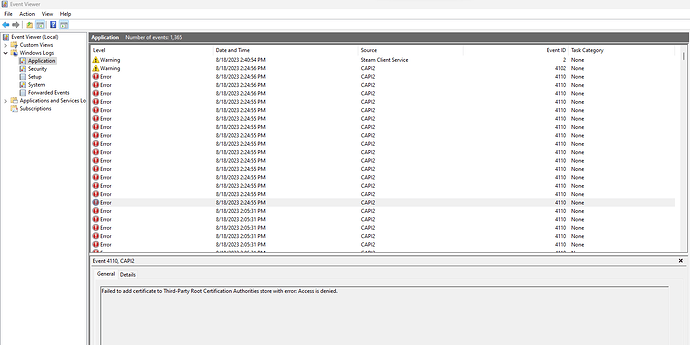 GAME FILES (SAVE / RECORDING)

Attach a SAVE GAME (.aoe2spgame) or GAME RECORDING (.aoe2record) of the match where you encountered the issue. Link it below if using an external file service.