GAME INFORMATION
These details are CRITICAL; DO NOT skip them or your issue may not be reviewed.
GAME BUILD

#:

101.101.45340.0 6228353
GAME PLATFORM: Steam
OPERATING SYSTEM: Windows 10
ISSUE EXPERIENCED
PC resources usage are at the highest when the game is at the main menu. A game with 8 extreme AI players capped to max, is less GPU and CPU intensive than just idling at the main menu. Why does this happen?
AFK at Main Menu - 66% GPU Usage
In-game Benchmark Test - 18% GPU Usage
specs are RAM: 12GB DDR3, CPU: AMD FX 6300, GPU: AMD R7 265X, HDD
FREQUENCY OF ISSUE
100% of the time / matches I play (ALWAYS)
REPRODUCTION STEPS
Here's the steps to reproduce the issue:
Open game
Stay at main menu
Open task manager and look how high your CPU/GPU usage is
EXPECTED RESULT
Why would the main menu which looks so simple, and barely anything happening, have so much usage and stress on the PC?
IMAGE
On Main Menu: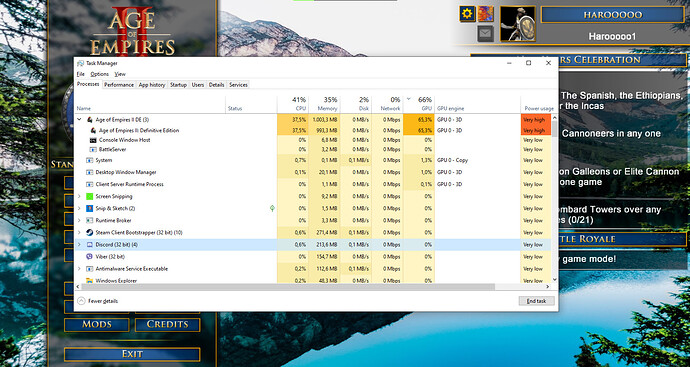 On Benchmark Test:
GAME FILES (SAVE / RECORDING)
.