GAME INFORMATION

These details are CRITICAL; DO NOT skip them or your issue may not be reviewed.
GAME BUILD

#:

Current, but it has also happened in previous builds
GAME PLATFORM: Steam
OPERATING SYSTEM: Windows 10
ISSUE EXPERIENCED

DESCRIBE THE ISSUE IN DETAIL (below). LIMIT TO ONE BUG PER THREAD.
For some reason, with most of my water battles, the HP bars don't appear on warships. I have it set to the default HP bars, so they appear when a unit is damaged, selected, or hovered over. None of this happens for warships. It seems to work fine for transports, not sure about other ships, and I know it works fine for land units.
FREQUENCY OF ISSUE

How often does the issue occur? CHOSE ONE; DELETE THE REST!
I don't really play too many maps with water conflict, but I might say:
50% of the time / matches I play (FREQUENTLY)
REPRODUCTION STEPS

List CLEAR and DETAILED STEPS we can take to reproduce the issue ourselves… Be descriptive!
Here's the steps to reproduce the issue:
I don't know. Start by setting health bars to default.
Maybe play Barabarossa 5, and take Constantinople's fleet? That is what I was doing when it most recently occured.
EXPECTED RESULT

What was SUPPOSED to happen if the bug you encountered were not present?
I expect the HP bars to work normally, and actually let me better control my ships without having to worry about losing fights badly because I can't judge HP without selecting ships, especially for enemies.
IMAGE

ALWAYS attach a PICTURE (.jpg, .png, .gif) or VIDEO (.mp4, YouTube link) that highlights the problem.
The boats are selected, yet no HP bars.


As opposed to transport ships: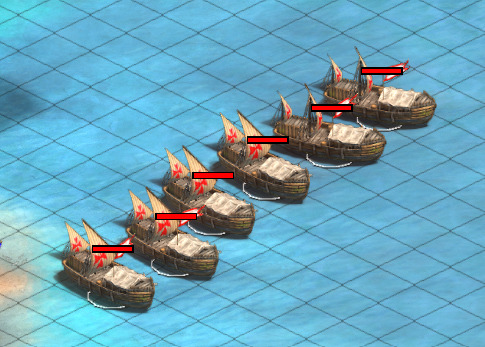 GAME FILES (SAVE / RECORDING)

Attach a SAVE GAME (.aoe2spgame) or GAME RECORDING (.aoe2record) of the match where you encountered the issue. Link it below if using an external file service.