Hi there
Well hello guys, I'd like to improve my gaming in multiplayer.
I still have a lot of Aussie Drongo videos to study but so far, the decks for my 2 main civs have worked well enough for me (Russian and British).
Still, I'd like to see what you guys think on how I can improve my decks.
Notes:
I only have 1 deck for both civs, they are an all around deck for any situation.
I never play water maps so I don't bother making a deck for them.
On each civ I'll write a small synthesis of my strategy.
On each deck I wrote in pink numbers the cards that I send normally when things go my way and I don't need extra resources quick instead of upgrades.
---
RUSSIAN DECK
Age I - I go for the faster gathering and cheaper mills/estates so I have a set late game.
Age II - I start either turtling with blockhouses gaining pop space with the special politician or raiding settlers with cossacs (Cossacs for sure if it's a french player), I end colonial age with the church upgrades (Allows me to level up all my units at once and get 2 reinforcement upgrades).
Age III - Who doesn't go 2 falconets in age III? Plus eco upgrades
Age IV - If I'm already pushing in, I reinforce with oprichniks, If not, factories.
MAIN STRATEGY: Raiding
and booming

.
---
BRITISH DECK
Age I - I start with the settlers and the 2 manor upgrades (This allows me to spam settlers quickly if centered on wood).
Age II - Since I'm spamming settlers, I survive colonial with military shipments or hussars.
Age III - 2 cannons men, can't go wrong with that, also eco upgrades.
Age IV - I finish my boom with 2 factories, I push in with the artillery upgrades.
MAIN STRATEGY: Booming

and spamming cavalry

.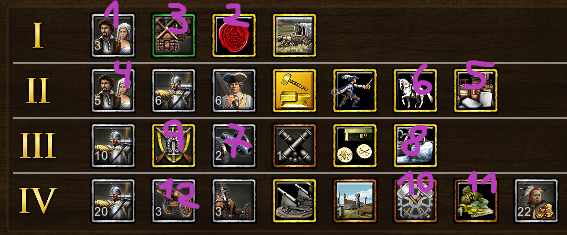 ---
Oh man, the pros of the community will surely take a dump on my cards hahah, be nice u guys…