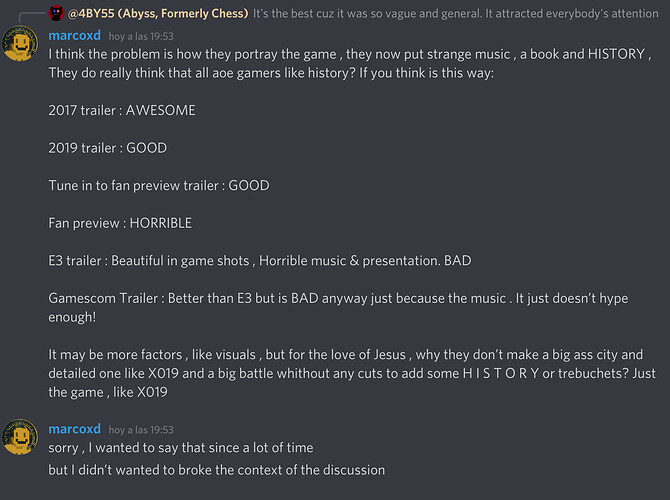 So , I think that is a great conclusion but I do want to add more points.
Why they don't put a nice ■■■ track like they used in 2017 trailer? Or made a big and detailed city with a big ■■■ battle without cuts or some history , just the game presented like in X019 , your game is dying just because your marketing team just doesn't know how to hype the game now!
They created a beautiful trailer for 2017: Age of Empires IV Announce Trailer - YouTube
They created a beautiful city and people liked it in 2019 : Age of Empires 4 - Official Gameplay Trailer | X019 - YouTube
Or create an actually good trailer to hype people to tune into an event for fans , like in April : Age of Empires: Fan Preview - Tune In Trailer - YouTube , THIS TRAILER HAVE GOOD HYPE ■■■ MUSIC!
But instead they had published a trailer for gamescom that actually doesn't make more than 45 seconds OF REAL GAMEPLAY! the rest of the trailer are HISTORY CLIPS OR THE BOOK! : Age of Empires IV - Official Gamescom Gameplay Trailer - YouTube
And you may say , nah but in fan preview they messed up with graphics , sorry but that is not the reason to make a bad trailer, see it for yourself in this trailer : Age of Empires IV: Delhi Sultanate Civilization Reveal - YouTube, IT HAVES GOOD MUSIC THAT HYPES YOU.
Think whatever that you guys want , but a thing is for sure , I played the game and it's a shame you guys are letting such a game into the trash.
Sorry if this thread maybe hurts someone , I actually just trying to help the marketing team , every comment on this topic will help the marketing team I guess (if they actually read This)