Been a while since playing Campaigns, gone through the menu, commands and the save game screen, but can't find/activate autosave.
It is a missing feature. Would be nice if it was implemented some day. Do you know if the sequels have it?
AoE 2 DE has this function.
Yes it is. There use to be an option to have on or off, not sure how to activate it now.
Probably it was removed? Because I own the game since april 2020 and I don't recall seeing it in the settings or any other menu.
It looks like it has, might be cheat for autosave though
I own this game since november 2019 and don't recall seen this function anywhere in the menus. I think it never had it.
You are confusing things. There's no "autosave" so to speak, but only "save" feature. What happens when selecting "restart scenario" (even after update 38862) is that the last manual save gets loaded instead, if there is at least one in the current scenario.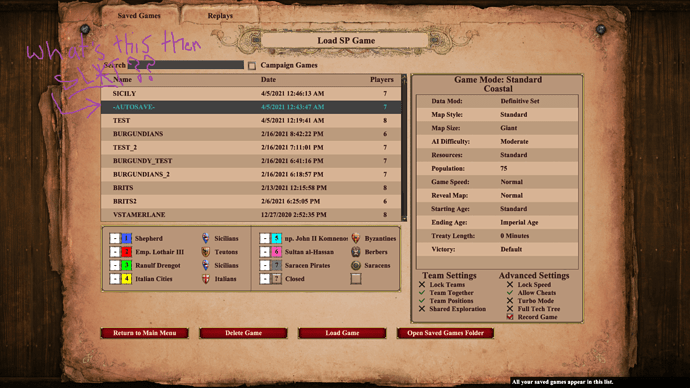 Sorry, sir, took me a while to upload
. This has been a feature since release. every 20 mins or so, it rewrites over the old Autosave. Saved my ■■■ a few times. fyi the autosave is working again.
"restart scenario"
I never restart a scenario, my habits make me save the game straight away, and load if things turn to ■■■■.
I'm glad autosave works as intended in the game you are referring to. As for the game this forum was created for, we still dream of that feature becoming a reality. Who knows, maybe Microsoft has a secret to be revealed on April 10.
Ah, crap, no wonder there were a sharp disagreement, my bad.