Something I had an idea for the other day, thought I would expand on it.
This is conceptually a new regional unit that could be added in a East Asian-themed DLC, the Fire Lancer: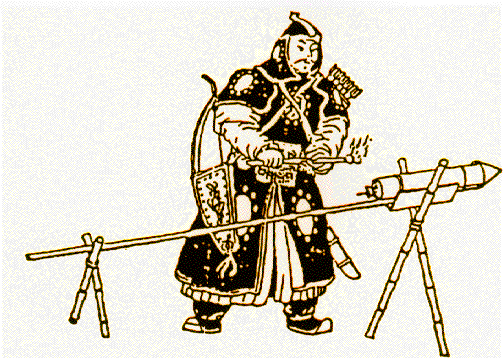 History:
The Chinese Fire Lancer (Or, Huǒ Qiāng) was an early form of military application of gunpowder, arriving around the 10th-12th Centuries, many hundreds of years before more widespread gunpowder usage. They were made of a long pole or polearm, with a firework-like attachment on the tip.
This would then be lit and pointed at a target, spraying them with incendiary or pellets that had been lodged into the firework.
Early hand cannons would use this similar concept before progressing into a design more like a modern rifle.
In-game stats/usage:
Civilizations with access to this unit:
Chinese
(Hypothetical)
Jurchens
Khitans
Tanguts
The Fire Lancer would be available from the Archery Range in the Castle Age, in the slot where the Hand Cannoneer is.
Once reaching Imperial Age, any civilization with access to both Fire Lancers and Hand Cannoneers that researches Chemistry, will have their Fire Lancers automatically upgraded to the latter (Example: Jurchens). For civs that have Fire Lancers but lack Hand Cannoneers, the Fire Lancer would simple gain flaming projectiles and +1 attack (Example: Chinese).
Hit Points: 35
Pierce Attack: 14
Attack Bonus:
+5 vs Infantry
+2 vs Rams
+1 vs Spearmen
Rate of fire: 3.45
Attack Delay: 0.35
Range: 6
Accuracy: 75%
Projectile Speed: 7.5
Melee Armor: 1
Pierce Armor: 0
Armor class:
Speed: 0.96
Line of Sight: 8
Cost:
Training Time: 38 Seconds
What in-game purpose does the Fire Lancer serve?
The Fire Lancer design would serve several purposes. It would act as a soft infantry counter-unit in the Castle Age, and for civs with Hand Cannoneer, it would act as a way to mass them in early Imperial Age via making Fire Lancers during the Castle Age. Providing an interesting design for a hypothetical new gunpowder civ that I don't believe the game currently has.
The Fire Lancer is a little worse in several areas than the Hand Cannoneer; lower HP, range, a little less damage, significantly less bonus damage and a slightly longer training time. Hopefully this is enough to prevent them being problematic in Castle Age.