Pro tip

, place an outpost if you are forced to seek farther away natural resources, that way you can garrison the far away settlers when they are under danger giving you a chance to get reinforcements or sneak out when the enemy doesn't pay attention.
Probably works even better with Chinese, since you can place villages instead which don't attack hence not attracting attention to a passing scout.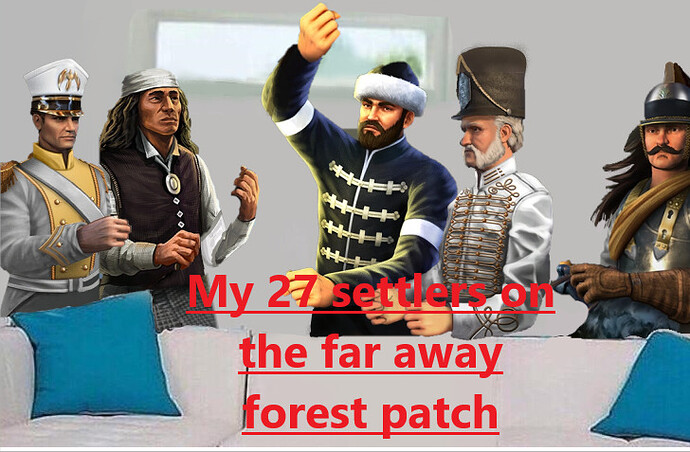 PS:
I'm not photoshoping a female settler here so don't ask, yeeesh…
---
Well guys, since we are in the topic of raiding (Picking off settlers or building without fully engaging military regiments), I'd like to know how is the meta right now?
What combo do you use to raid mostly?
Heavy Cavalry
Light Cavalry
H&L Cavalry combo
Heavy Infantry
Light Infantry
H&L Infantry combo
Cav&Inf combo
Artillery push in fast fortress
Ultra mixed army
and…
In what age do you raid mostly?
Age I, I'm annoying settlers with my explorer/pet heheheh (TOXIC)
Age II, I can't let them grow too comfortable
Age III, because I'm using upgraded/special units (опри́чник!)
Age IV, I'm making definitive massacre raiding before pushing
Age V, I'm on treaty or I forgot to raid earlier lol
---
Thx for clicking this post :3