Inca is just gimmick upon gimmick and it destroys balance, fun, and realism. A lot of the themes and character of the civ could be implemented in much better ways.
Issues:
Kancha Houses
Houses that are mini factories are overall a very poor design. You need to build houses anyways so the cost for the extra production is tiny and provides unraidable income. Torps and Shrines are already terrible, but at least they actually consume resources or require hunts and come with a lower villager cap. At most, Kancha Houses should provide a Llama when built.
Dutch banks should be the template for resource generating buildings since they are balanced by having a large upfront cost and only serving one purpose. The Incas have a building that would be perfect for a role equivalent to a bank: Qullqas
Qullqas were storehouses of the Incan empire. They could generate mainly food, but have upgrades to generate all resources (Quipu would be a good name for an upgrade). They could possibly even have a much smaller generation rate but also provide a gather boost like granaries.
Kallanka
Garrisoning of military units should be limited to Strongholds only (Maori with their Pa would have made a much more interesting civ to give this mechanic to). It's way too strong to have units able to hide from their counters and effortlessly avoid unfavorable fights.
Unit Speed
Super fast pikes are too strong. Similar units that can do hit and run siege (Steppe Riders and Oprichniks) at least don't counter the cavalry units that are capable of catching them. And other heavy infantry can be easily intercepted when committing to far away sieges.
The speed boosts to Incan units could be limited to a speed boosting aura around Incan buildings or when nearby Chasqui rather than just huge speed upgrades by default.
Chincha Rafts
Chincha Rafts are never going to be balanced or fun to fight against when they have to fulfill the role of every single ship in the game. The Inca need at least one more boat type so that the Chincha Raft can be given a more defined function and not have to do gimmicky things like train itself.
They should have smaller Balsa Boats (like the ones used on lake Titicaca) to fill a canoe equivalent role. That type of boat is even pictured in one of the Chincha Raft upgrades!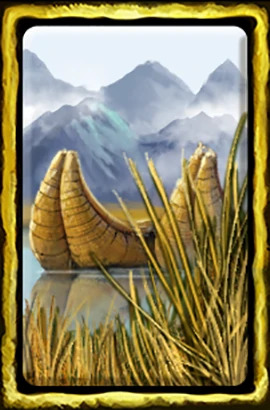 Priestesses
It is baffling why these are the only unit in the game that can convert things. The Inca were converted to Catholicism, not the other way around. If anything, Missionaries should be the unit that has a conversion ability.
Even disregarding the logic of it, the conversion mechanic really sucks and it doesn't seem viable to use. You need to sacrifice Priestesses' time on the plaza, and most high value conversion targets like cannons are going to be surrounded by enemy units and die as soon as they are converted.
They really should just have the crate and treasure gathering ability by default without the need of a card and they'd still be useful enough without a conversion gimmick.
Stealth Buildings
This is just silly.
Plantation Trickle
Having a trickle and limited number of plantations makes no sense. If an agriculture bonus is needed, a unique building like a terrace farm or gold trickle of gather boosting aura from the above Qulla would make way more sense.