GAME INFORMATION
These details are CRITICAL; DO NOT skip them or your issue may not be reviewed.
GAME BUILD

#:

######
GAME PLATFORM: Steam
OPERATING SYSTEM: Windows 10
ISSUE EXPERIENCED
DESCRIBE THE ISSUE IN DETAIL (below). LIMIT TO ONE BUG PER THREAD.
I was just hovering over the tech tree preview while playing a custom scenario as Vikings, and when I hovered over one of the techs with a cross on it, it said Elite Gbeto instead of whatever it was meant to be. This may have only been a scenario thing due to how it was set up, I'm not sure, but it could be worth investigating.
FREQUENCY OF ISSUE
How often does the issue occur? CHOSE ONE; DELETE THE REST!
It's only ever happened once, but I haven't really gone looking for it.
REPRODUCTION STEPS
List CLEAR and DETAILED STEPS we can take to reproduce the issue ourselves… Be descriptive!
Here's the steps to reproduce the issue:
Start a game as Vikings, if necessary play @PhillySouljah's Ragnar's Raids scenario, because that's what I was doing.
Hover over the tech tree preview, the thing with an X on the left under the dock area.
Hopefully observe this.
EXPECTED RESULT
What was SUPPOSED to happen if the bug you encountered were not present?
I'm not sure what it was meant to be, but I'm guessing not Elite Gbeto on a Vikings tech tree under the dock techs.
IMAGE
ALWAYS attach a PICTURE (.jpg, .png, .gif) or VIDEO (.mp4, YouTube link) that highlights the problem.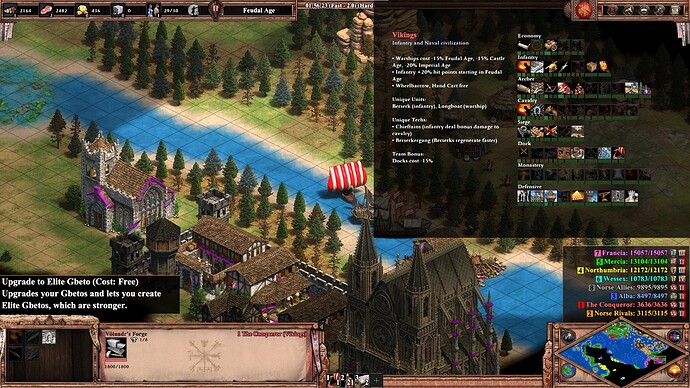 GAME FILES (SAVE / RECORDING)
Attach a SAVE GAME (.aoe2spgame) or GAME RECORDING (.aoe2record) of the match where you encountered the issue. Link it below if using an external file service.