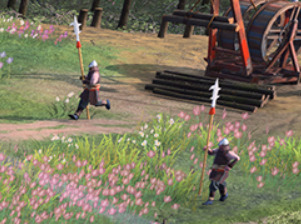 It is obvious that although we have been providing feedback on the weapon issues of the Long Spear soldiers since the internal testing period, the production team has never taken our ideas seriously. They still stubbornly use abrupt billhooks for Long Spear soldiers around the world, which is very "AOE2" and very outdated.
If it is really for the sake of "esports" that we need to take care of players with poor eyesight and unclear units, why don't you add a setting option to meet different types of players?
For example, for players who do not care about restoring history and only want to efficiently perform PVP, they can choose to use a weapon with all units of the same type.
For other camp enthusiasts or PVE players who pursue a sense of historical immersion, they can choose to use their own CIV style weapons for all units.
Even if you feel that this is a significant workload and do not want to add such a setting, and it is necessary for all spearmen to use one weapon, you can still have them use a universal spear with no obvious regional style, so at least it does not look very contradictory.