Introduction and Civ tech trees (PLEASE READ):
Firstly, let me answer the burning question: Why "?" instead of numbers? Well because I've realised that these numbers are pretty redundant when it comes to civ concepts, as they aren't well tested due to the limited knowledge I have on modding and the limitations of the scenario editor. So instead, I think it'll much more beneficial to focus on the text rather than just the numbers.
Hey guys, this time after a long break, I'm back with a new civ DLC concept, this time focusing on three Sub-Saharan civs (Kongo, Shona and Swahili). Starting with the Kongo.This civ DLC concept will be more gimmicky compared to the previous concepts, inspired by the latest DLC. It will feature a unique economic building, the Corral. This will be directly influenced by livestock pen/market present in AoEIII and Cattle Ranch/Mill in AoEIV. The Corral replaces the farms, and allows you to buy herdables in return for wood. Building a market will allow you to buy and sell herdables at a better price than just normal food (with the caveat of having to actually harvest the food after buying it). To sell herdables, you need to garrison them inside a Corral.
I need some feedback on the exact stats of their UU, the Shield Bearer, as it's very much an unconventional unit with not much of a parallel in-game (the closest I can think of are Teutonic Knights). So any feedback is welcome.
Civ bonuses and Unique techs: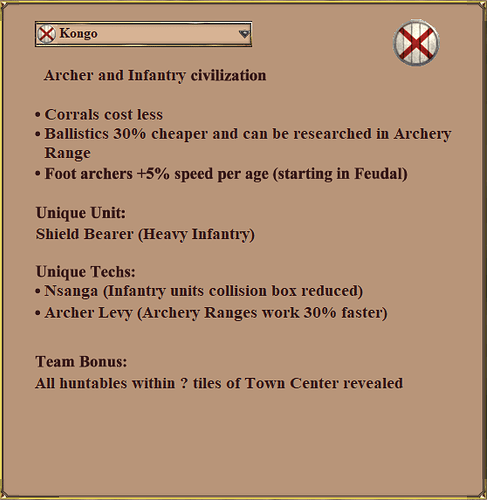 Corrals:


Corrals here work very similar to Livestock pens and markets in AoEIII. So use that as a reference for feedback.
Unique Unit:


Tech Tree imgur link: Kongo Civ Concept - Album on Imgur
Any feedback is welcome.