I decided to test the new British Rangers as soon as the patch dropped to see if they are a worthy replacement for the longbowmen. Here are their raw stats at their absolute peak(Post-Imperial, with all possible card upgrades for Britain), as well as the Roger Rangers(generic skirmishers) and the Jaeger Mercenary who also have similar roles.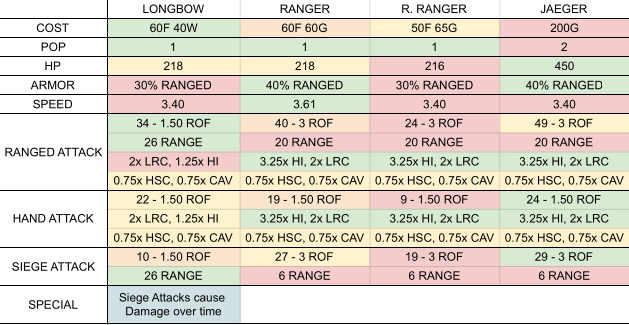 ROF: Rate of Fire
LRC: Light Ranged Cavalry
HI: Heavy Infantry
HSC: Hand Shock Infantry(I ■■■■■■ up and wrote HSC instead of HSI on the chart)
CAV: Cavalry
Rangers are better than Roger Rangers by every possible metric, except price maybe. Longbowmen are cheaper and can do more damage at a larger range than Rangers in every situation, except when facing Heavy Infantry. The extra damage over time for Longbowmen on siege is actually quite weak and doesn't add a lot really, at least in my quick tests.