I dont know what the hell devs doing about chinese translation, its not inaccuracy but errors!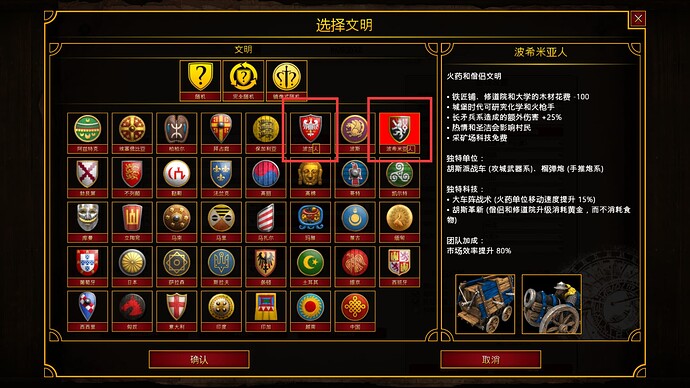 The first is civs name, the Simplified Chinese translate it without "人", so it Poles should be "波兰", Bohemians should be "波西米亚"
In English, Poles have "Villagers regenerate 5HPs pre minute in Dark, 10 in Feudal, 15 in Castle, 20 in Imperial Age", but in devs just translate it in "村民可再生". Well, it equals to "Villagers can Revived". Are you guys translate text by Google? If you want smplified, it should be "村民可自动恢复生命值"
This is Bohemians, Which Unqiue techs "Hussite Reforms" means "the gold cost replaced by food", but the Chinese translation It "cost only gold but food", what the hell ???
And the Unique Unit "Hussite Wagon", which description "Units behind it receive 50% less damage from incoming projectiles". Chinese translation the "projectiles" into "炮弹", which just means Cannon's damage. But the truth is it can reduce Throwing objects damage includes the Arrows in Range and others.