GAME INFORMATION
These details are CRITICAL; DO NOT skip them or your issue may not be reviewed.
GAME BUILD

#:

101.101.54684.0 7486483
GAME PLATFORM: Steam
OPERATING SYSTEM: Windows 10
ISSUE EXPERIENCED
DESCRIBE THE ISSUE IN DETAIL (below). LIMIT TO ONE BUG PER THREAD.
LOTW new player icons are not displayed in unranked lobbies/ranked parties (both Coustillier and Serjeant icons). DOTD doesnt even have player icons
FREQUENCY OF ISSUE
How often does the issue occur? CHOSE ONE; DELETE THE REST!
100% of the time / matches I play (ALWAYS)
REPRODUCTION STEPS
Open AOE2: DE
Select any of the 4 player icons released with LOTW expansion. (By the way, see that there is no DOTD user icons)
Join any multiplayer game, at lobbies or ranked.
See nothing.
EXPECTED RESULT
You and everyone at the lobby/ranked game lobby should be able to see your player icon. You Instead, nobody can see it. Also, you should be able to pick DOTD profile icons. Its amazing how i reported this bug 6 months ago and it still not fixed.
IMAGE
ALWAYS attach a PICTURE (.jpg, .png, .gif) or VIDEO (.mp4, YouTube link) that highlights the problem.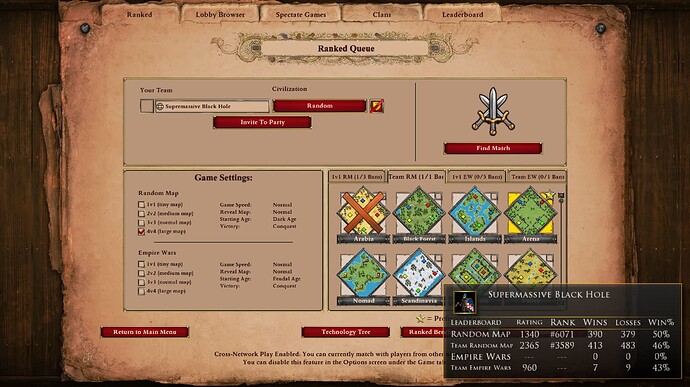 GAME FILES (SAVE / RECORDING)
Attach a SAVE GAME (.aoe2spgame) or GAME RECORDING (.aoe2record) of the match where you encountered the issue. Link it below if using an external file service.
N/A