Resources in the Age of Empires series have always been a little abstract. How much is "1"? One what? Use units man. It's a rabbit hole down layers of abstraction. You could try to find how much one gold is by looking at how much revenue a country continuously at war might actually generate from owning a holy relic over several centuries, or you could try to determine how much one stone is by looking at how many castles real world nations could build out of their primary, secondary or neutral stone mines. But with wood and food we can get a little more concrete than that. A map I've been developing made me ask myself: when consuming the animals available around the map, how much meat is 1 food?
So what I did is look up the range of weights a real world animal represented by the in game animals might have, and then determine how much edible meat that means by just taking 60% of the live weight and calling it a day. This is across wild species and domesticated breeds within a group and for small young adult females to large fully grown males (where there is a difference). Because these ranges are rather large I then tried to nail it down to a "typical" value, taking into account which species, subspecies or breed an army would be most likely to encounter within the setting of the DLC the animal came in and such. In the graph and table below I name the specific variety this typical value is for between brackets behind the name. These typical values are guesstimates as much as the ranges themselves, but I'm fairly sure I got most values within about a factor three of the truth. I also included the sort of joke unit iron boar and two of the (many) inedible animals in the game (six if you count horse, wild horse, camel, wild camel, bactrian camel and wild bactrian camel all as separate entities).
Once I had typical numbers I could determine for each animal how much meat there is to 1 food. The lowest amount I found was just about 35 grams for both the goose and the javelina. The highest value was 6 kg of meat per 1 food for the elephant. I'll be honest, that number was disappointingly small. I then determined the average, the median and the modus (sort of) of these values and plugged those values back into the system: how much food would these animals give if one food actually represented a tangible amount of meat? (For these calculations I took into account sheep and goats being separate entities, I just merged their numbers because they're really similar.) I used colors to indicate how close these values came to the current ingame values of food each animal gives. Green is within a factor 2 of the current value, yellow is between a factor 2 and 5, orange means there is between 5 and 10 times more or less food on the ingame animal than justified by these numbers, and a red number is more than ten times off.
I also arrived at a conclusion. From now on one food should absolutely represent as close as possible to 500 grams of food. A goose will now give 7 food, so you'll need 114 of them to get to the regular amount of herdable food around the TC. An elephant will give 4800 food, roughly twice the total you can currently harvest from your boar, sheep and berries combined with a few deer tossed in for good measure. It's only realistic.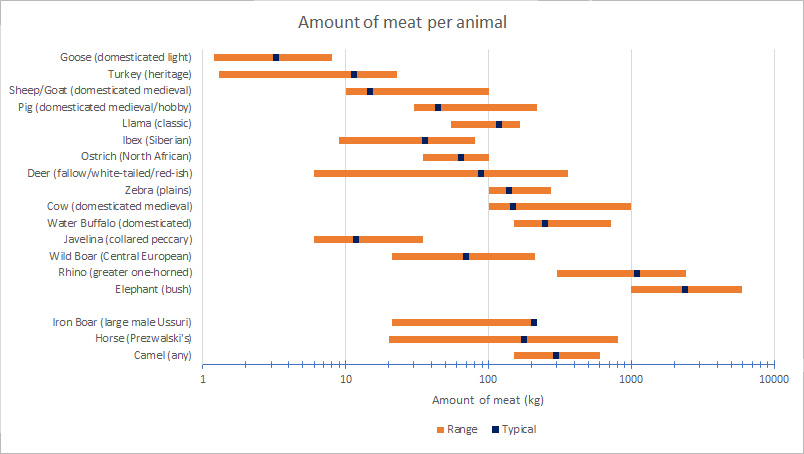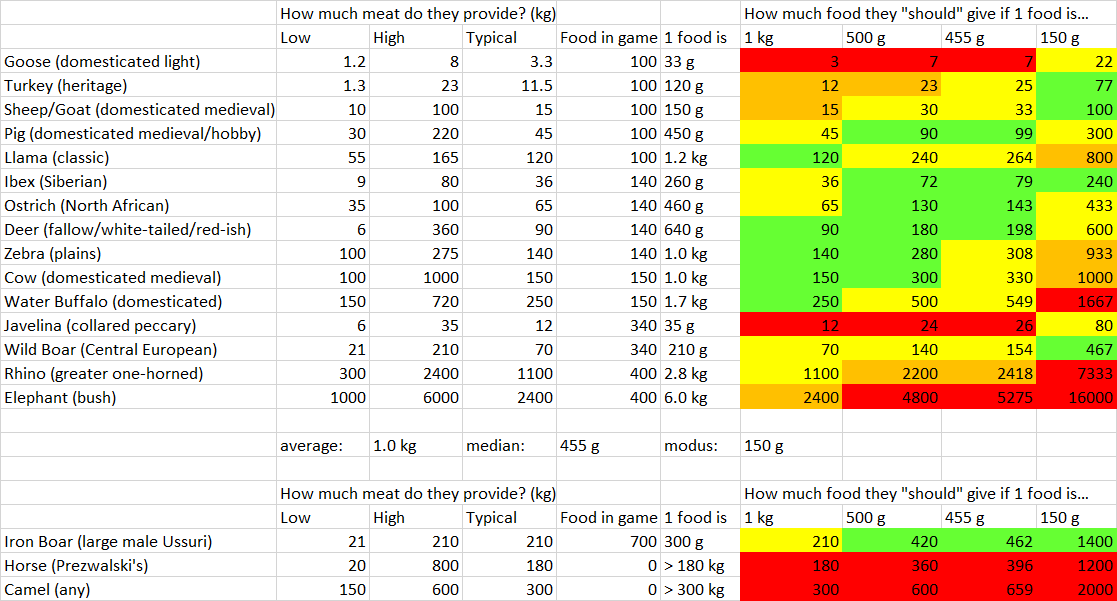 (Sometimes I just feel like weird thought experiments, and in the spirit of the old Wololo Wednesdays I also try to provide some visuals to the forums every now and then.)