GAME INFORMATION

These details are CRITICAL; DO NOT skip them or your issue may not be reviewed.
GAME BUILD

#:

78757
GAME PLATFORM: Steam
OPERATING SYSTEM: Windows 10
ISSUE EXPERIENCED

DESCRIBE THE ISSUE IN DETAIL (below). LIMIT TO ONE BUG PER THREAD.
When generating the same map over and over the seeds have a tendency to repeat.
FREQUENCY OF ISSUE

How often does the issue occur? CHOSE ONE; DELETE THE REST!
Less than 25% of the time / matches I play (RARELY)
I don't have an exact number because there were only 1 gen I knew 100% was repeating but there were others that looked "familiar" but some of them could have also been repeating. At best I'm guessing it repeats at least 1/100 for mega random.
REPRODUCTION STEPS

List CLEAR and DETAILED STEPS we can take to reproduce the issue ourselves… Be descriptive!
Here's the steps to reproduce the issue:
Launch Skirmish mode in singleplayer With mega random selected and the lobby settings set as I have done in the picture (also works for having map size set to 2). If the map isn't correct quitto main menu and generate again.
2.Repeat enough times and the map with the fietoria Seed -1237491295 will appear. To make sure its the same note the 3 boars, fietoria, 4 house start, with a horse.
3.Repeat step 2 until it appears again.
EXPECTED RESULT

What was SUPPOSED to happen if the bug you encountered were not present?
I would not get the same seed 4 times in something like 400 generations, repeating a generation that someone else got.
IMAGE

ALWAYS attach a PICTURE (.jpg, .png, .gif) or VIDEO (.mp4, YouTube link) that highlights the problem.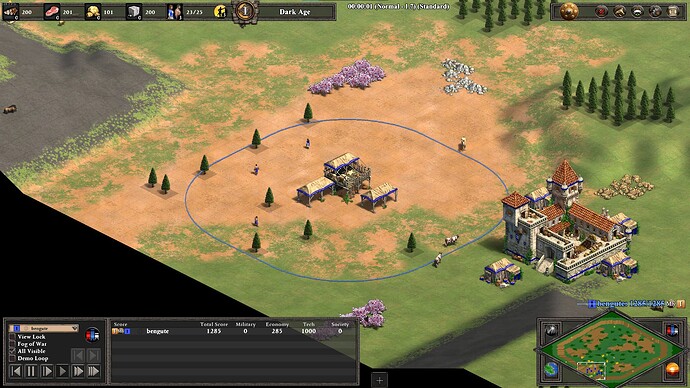 GAME FILES (SAVE / RECORDING)

Attach a SAVE GAME (.aoe2spgame) or GAME RECORDING (.aoe2record) of the match where you encountered the issue. Link it below if using an external file service.
rec.aoe2record (213.4 KB)
The video file is just what the tiny size generation looks like, got the tiny size generation 3 times before trying to switch up map size in an effort to get different generations.
*