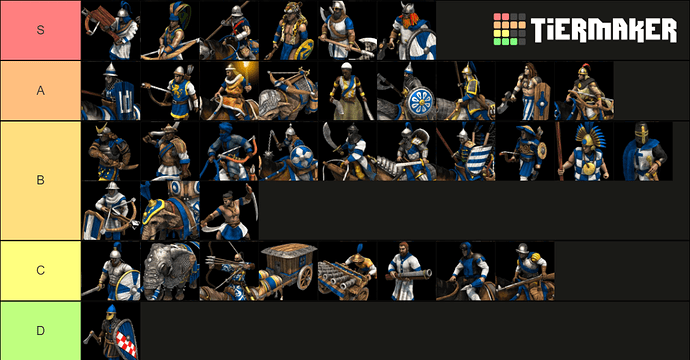 Civs are ordered from strongest to weakest inside any tier.
S tier - Top tier civs, with great eco and/or military options, smooth transitions in every age and very few weaknesses and bad match-ups across the board (Chinese, Mayans, Burgundians, Aztecs, Franks, Vikings).
A tier - Great civs, with strong eco and/or military, separated by S-tier civs due to few awkward transitions or exploitable weaknesses (Lithuanians, Britons, Huns, Khmer, Malians, Slavs, Tatars, Celts, Mongols).
B tier - Good civs, with few strong power spikes available to somewhat keep up with higher tier civs, but that lack their flexibility/eco/power level or tend to have inconsistent match-ups (Japanese, Ethiopians, Berbers, Bulgarians, Saracens, Byzantines, Magyars, Vietnamese, Incas, Teutons, Italians, Indians, Malay).
C tier - Decent civs, that can be dangerous in the right situations, but tend to be unreliable, to suffer very exploitable weaknesses or simply struggle to keep up with stronger civs (Goths, Persians, Cumans, Koreans, Portuguese, Turks, Burmese, Spanish).
D tier - Bad civ(s), that can't keep up with the meta due to poor eco and military bonus (Sicilians).