Ok, first time I have posted a civ concept here. So bare with me if there are any layout errors or things I have forgotten.
Civ shield emblem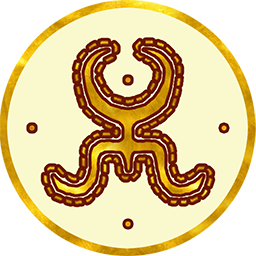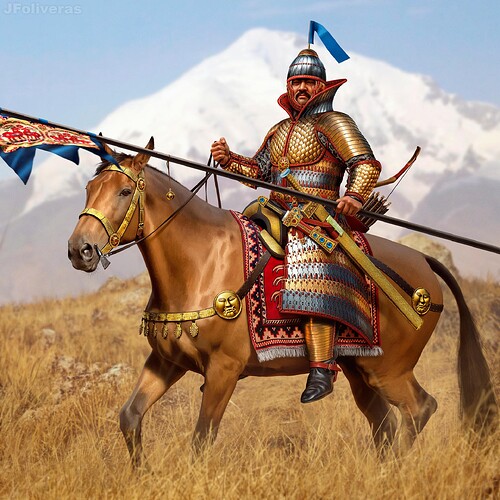 Who are the Hephthalites?
They were a Central Asian peoples that lived from the 5th to 8th Century in what is now Uzbekistan, Tajikistan & Kyrgyzstan. They were also known by the name "White Huns" or "White Hunas", as Hunnic culture associates points on the compass with colours, although they bore no known direct connection to the Huns that ravaged Europe. Like most Central Asian peoples, they were known for being cavalry users, and their armies were widely feared.
They came into conflict with the Sassanid Persians, armies of Western India and the Arabs.
Eventually the Hephthalites settled into various parts of Southern Central Asia and Western South Asia. Forming many different later groups.
Campaign:
Nezak Tarkhan
For current campaigns, they would replace:
Tatars (representing the Hunas) in Devapala
Cumans & Mongols (representing the Uzbeks) in Babur
Mongols (representing the White Huns) in Bukhara
Cavalry Civilization
Architecture set: Central Asian
Language: Bactrian
Trade Cart: European
Wonder:
The Buddhas of Bamiyan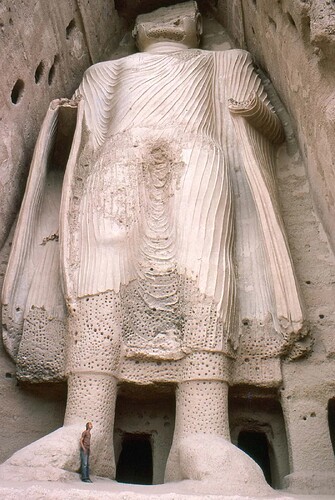 Civ Bonuses:
Cavalry units are affected by Parthian Tactics
Stables and Archery Ranges work 10% faster
Free Husbandry
Hunters drop off 10% more food
Start the game with a horse as well as a Scout
Team Bonus:
Trade Carts have 100% more HP
Unique Unit:
Grivpanvar - Cavalry unit that has both a ranged and melee mode. 50 Food 65 Gold
HP: 100, 125 (Elite)
Attack: 10, 12 (Elite) melee
4, 5 (Elite) pierce
Rate of Fire: 1.7
Frame Delay: Ranged - 14
Attack Delay: Ranged - 0.33
Range: Ranged - 5
Accuracy: Ranged - 70%, 80% (Elite)
Projectile Speed: 7
Melee Armor: 2
Pierce Armor: 2
Armor Classes: Archer, Cavalry Archer, Cavalry, Unique Unit
Speed: 1.4
Line of Sight: 6
Creation Time: 18 Seconds
Unique Techs:
(Castle Age) - Bactrian Archery: 500 Food 400 Gold
Cavalry Archers and Elephant Archers fire a second projectile.
(Imperial Age) - Sogdian Lances: 600 Wood 400 Gold
Steppe Lancer line has +1 Range
Missing Techs Tree:
Barracks:
Eagle Scout, Two-Handed Swordsman, Halberdier, Gambesons
Archery Range:
Crossbowman, Hand Cannoneer, Elite Elephant Archer
Stable:
Knight, Battle Elephant
Siege Workshop:
Battering Ram, Siege Onager, Bombard Cannon
Castle:
Hoardings
Dock:
Galleon, Cannon Galleon, Shipwright
Monastery:
Sanctity, Heresy
Blacksmith:
Plate Mail Armor
University:
Architecture, Bombard Tower, Siege Engineers, Arrowslits
Economy:
Crop Rotation, Stone Shaft Mining
Thoughts:
I wanted to get across a civ that was more Early Middle Ages; so things like gunpowder and crossbows wouldn't be available. And as they were semi-nomadic, their defenses and infantry wouldn't be very good either. Their dock also isn't amazing, as they were a land-locked civilization (contact with the Byzantines meant I kept the Fast Fire Ship, Dromon & Heavy Demo ship).
Instead the civ relies on their extremely broad cavalry access to fill the gaps. Extra-powerful Hussars gives them a fantastic trash option, Grivpanvar act as a weird substitute for the knight, Steppe Lancers are the main bulk of the army, fully-upgrade Cavalry Archers for raiding, camels to counter other cavalry & elephants for the late game as a death-ball.
The faster working stables & archery range is to play on their similarity to the Huns.
Parthian Tactics affecting the whole stable is something I have always wanted to see, and a steppe civ is the perfect place for it. It gives their cavalry a lot more defense in the late game, and a way to cut through the spearmen-line quicker, making up for the lack of other units to do the job.
Free Husbandry is to show their steppe horse-breeding. And the hunting bonus is to represent how important it is to Steppe culture.
Keeping with the nomadic theme, they also start with a horse, to essentially double their ability to scout, but this also prevents insane laming.
Extra HP on trade carts represents the importance of the silk road to the Hephthalites, but also gives them a more secure gold source during the later stages of team games. Which they need to finance their heavy cavalry.
Lack of halberdiers is to compensate for their +50% damage Hussars, which would be a powerhouse in trash wars. And they can still counter other cavalry via faster-producing fully-upgraded camels.
The Grivpanvar is a heavy cavalry unit that can also shoot. It has a longer range than cavalry archers, but a lower rate of fire. This is to make it easier to use (switching between modes is less stressful), but shouldn't do more damage at range than the cavalry archer.
Costs and stats I…am not sure on. I made best guesses from similar techs, and based the Grivpanvar's on a mix of Knight & Ratha but changed them to try and make the unit fit the design I was intending better, but still have trade-offs.
Their South Asian architecture represents them raiding and eventually settling in the area, while their European trade carts show that they are not actually from South Asia, and how they are strongly associated with horses.
I did try to keep the civ from being overpowered, as that tends to skew the conversation/discussion. I may have gone too far the other way though…we will see haha.
Let me know what you think