Lost Dynasties
Xianbei - Dominant power of north China before Tang dynasty. Split Chinese into 2, Xianbei for northern style Chinese, the old Chinese remain same name but adjust its tech tree to southern style (maritime & archer)
Tungusics - Northeast Aisan, umbrella civ for Khitan & Jurchen, Khitan and Jurchen have too many similarities. A more general ethniclinguistic concept like the Bangalis or Slavs is nicer.
Hephthalites - Central Asian before Islam and Turkification. Umbrella civ for Saka, Sogdian, Bactrian, Xiyu city states and east Iranian(early Afgan and Pakistan)
Brief Intro (some details may be wrong)
Xianbei (400 BC ~ 672 CE)
Pretty similar to Goth in Europe. They filled the emptiness of Mongolia after Xiongnu were defeated. They formed tribal states, invented the title Khan, and sometimes fighted for Chinese dynaties as mercenary or even joined Han army. After China collapsed during 3rd century Xianbei people established some kingdoms in North China within the Great Wall and started sinicization. In 386 CE the Northern Wei Dynasty was established and unified whole North China, started a 200 years of north-south division of China. In 548 CE a rebelled general from Northern Wei called Hou Jing almost destroyed the south. Then in 581 CE, Xianbei's Northern Zhou dynasty, successor of Northern Wei, on its way of unifying China, ended because Yang Jian took power of the court. Yang Jian finished the job of unifying China and established Sui Dynasty. The founder of Tang dynasty later on has Xianbei blood. Last purely Xianbei kingdom is the Tuyuhun Kingdom which ended in 672 CE. The founder of Western Xia may be descendent of Xianbei. Northern Wei's imperial court heavily sponsered Buddism, and for the first time, monks were sent to India to bring back scripts and misonaries were sent to Japan.
Hephthalites (400s CE~ 700s CE)
Normadic people of central Asia, also known as White Huns, Hunas, Yeta. They may or may not be related to European Huns. Assumption of their original homeland include Southern Kazakhstan, Central China or Uighur region, and they speak various language including Bactrian, Sogdian and east Iranian. What is certain is that they took Bactria (Northern Afghanistan) as their stronghold around 450 CE and started to expand in all direction like the Mongols. Invasion on the Sasanid Empire started from 420s, in 482 the Persians were badly defeated and forced to pay heavy tribute. In 480s a branch of Hepthalites called Alchon Huns wiped out what is left of the Kushan Empire and conquered Northwest Gupta for decades until 528, bringing an end to classical Indian civilisation. In 479 they reached east end of Tarim Basin and completly conquered the area in 509, making them bordered Xianbei's Northern Wei. Northern Wei called truce with Liang China in the south to avoid two-front war. Hephthalite Empire was eneded by the allied Goturks and Sasanians in 557, after the Battle of Bukhala, but was still having their own nations under Turkic inflence. Hephthalites gradually lost their identity and emerged into other ethnic groups after 700s. They bought the tile Khan from Xianbei and unified all the buddist states along the silk road. Sogdia, the heart of their territory, flourished becasue of the empire's wealth and the famous Bhuddas of Bamiyan were built under their rule.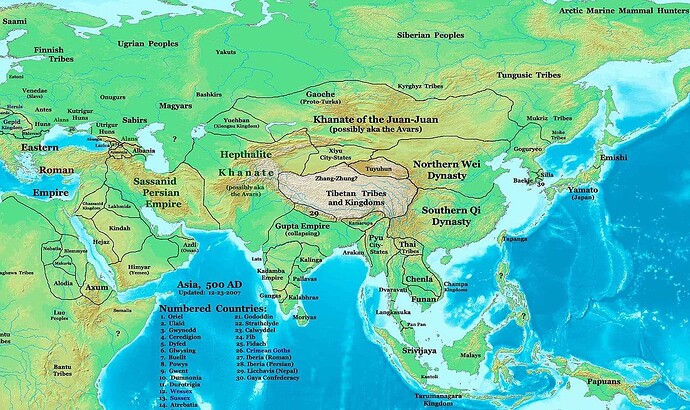 Tungusics (Khitan & Jurchen)
(to be continued)