This DLC will include 4 civs, Elivish, Orcish, Dwarvish and Undead. They will fight the Human Civs in the game.
Elivish
Compared to humans, elves are somewhat taller, more agile but less sturdy. They have slightly pointy ears, pale skin and usually blond hair. Few differences between humans and elves are more pronounced than the Elves' unusually long life — most, unless claimed by illness, accident or war, live a full two and a half centuries. While some elves possessing a high magical aptitude have been known to live an additional full century, most elves begin to grow physically frail at some point between 250 and 300 years of age and pass away rapidly (generally within a year or two) thereafter.
Elves are naturally imbued with magic to a small degree. Though most are unable to channel it directly, its latent presence gives them their keen senses and long life. Many elves have magic-driven talents such as marksmanship or stealth, allowing them to achieve tasks that most normal beings would find astonishing. Those elves that learn to wield this power in more general ways can become truly formidable in its use. Many choose to use their gift to heal others.
A few elves. venturing far down the paths of magic and mysticism, become sensitive to the presence of cold iron and can even be burned by it. Elvish legend hints that this was more common in the far past.
Elves spend much of their time honing their talents and skills. Those not adept at the magical arts typically devote their time honing their physical skills. As a result, elves excel at archery, which is perhaps their most important method of warfare. Most elvish troops carry a bow and no other race can rival their archers in speed and accuracy. All elves also share an intense affection for unspoiled nature. They often feel uncomfortable in open unvegetated spaces. They live primarily in the forests of the Great Continent; the Aethenwood in the southwest, Wesmere in the northwest, and the great northern woods of which the Lintanir Forest is the southernmost edge.
Elves are the eldest race of the continent, with the possible exception of trolls. Many of their settlements cannot be reliably dated, undoubtedly having existed for over a millennium.
Unique Units:
Enchantress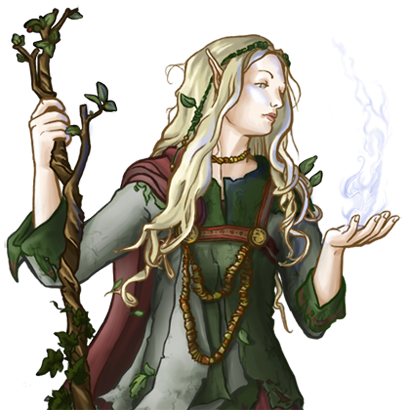 Outrider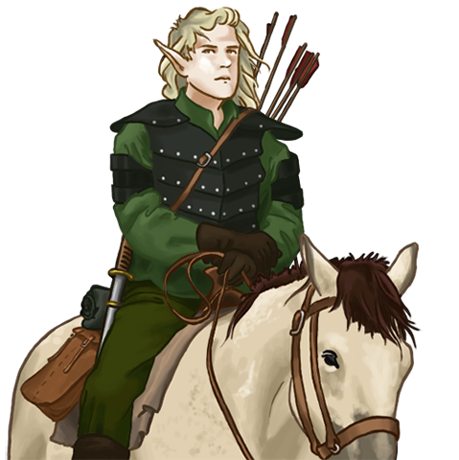 Orcish
In appearance, orcs are half men and half beasts. They are taller, sturdier and stronger than humans. They are warlike, savage, and cruel by nature. Their blood is darker and thicker than that of normal humans and they have little care for personal hygiene or their personal appearance. Although Orcs are violent even among themselves creatures, they are pack-oriented; an orc never travels long or lives alone in groups smaller than half a dozen.
Almost every orc is a member of a tribe or a clan. Relations between neighbouring tribes are usually violent, except in cases of a mutual enemy threatens their existence or prospects of great plunder override mutual animosity. Occasionally, a single strong chieftain may emerge to lead multiple tribes from time to time, usually through intimidation of followers. An orc tribe in times of peace tends to focus almost solely on strengthening itself in preparation for the next armed conflict. Orcs are known to possess a crude system of writing - usually in blood - although it's most commonly used to trade insults or threats among tribal leaders.
Orc societies are based on little else but strength; might makes right, and a leader leads and survives only as long as no one manages to wrest the title from him. A constant struggle for power simmers among potential tribal chiefs. An orcish leader rarely lives more than a handful of years to enjoy his absolute authority before being killed for his position - although history knows some notable exceptions. Orcs hold no particular honour code and while undisputable raw strength is usually the preferred method of displaying power, assassination, poisoning and backstabbing are completely viable means to further one's own goals.
Orcs mostly live in rural areas, often in foothills or mountainous regions, sometimes in caves. They grow no crops nor keep livestock, but are competent hunters as a result of their physical stature and brutality. Due to their large numbers they are capable of hunting an area virtually clean of anything larger than rodents in relatively short period of time. Due to this and their unstable leadership, orcish tribes tend to lead a semi-nomadic lifestyle, never settling in one region for too long. The larger tribes may establish themselves firmly in an area for years or even decades and build large encampments almost resembling cities, but even these are easily dismantled and abandoned if there is a need to relocate the horde.
The oldest known orcs have been around 50 to 60 years of age, but very few individuals ever live to see over two or three decades before meeting their end either in war or by the hand of one of their kin. The oldest orcs are often shamans, which are perhaps the only ones most of their kind sees as being trustworthy and neutral. The origins of this custom are unknown, as the shamans do not directly contribute much to orcish societies but only act as advisors - not something orcs tend to otherwise tolerate. Shamans are in many ways the opposite of most other orcs: they are often physically withered and frail in comparison and lack skill in battle. Despite their reliance on raw strength, not nearly all orcs are destined to grow to possess any. Many orcs are born smaller and weaker than the rest, and already almost as newborns are put in their place by their stronger siblings. The stronger ones will routinely grab most of the food and thus grow stronger still, while their weaker siblings do not. Many of these individuals tend to specialize in other skills, like archery or assassination.
Unique Units:
Slayer:


Nightblade:

Dwarvish
The Dwarves are a race famed for their miners, blacksmiths, merchants and warriors. Considered as the third oldest race on the great continent after the elves and trolls, their early history is shrouded in mystery. Legends tell of a time long forgotten when their people began emerging from their underground world through caves. Nothing is known about their life prior to their arrival, or their reasons for entering the surface world, but they have been an integral part of the continent's history since. Soon after their emergence from the underground, the dwarves entered into conflict with the original inhabitants of the land, the elves. The original reason for their dispute has been lost to history, but the two races have since fought three long wars, interrupted by a few decades of peace. During these wars the dwarves could not dislodge the elves from the deep forests in the south, but managed to consolidate their position in hills and the mountains in the north of the continent, known now as the Northlands. Since then they have constructed fantastic fortifications and settlements deep within the mountains and crags of their territory.
Unique Units:
Runemaster: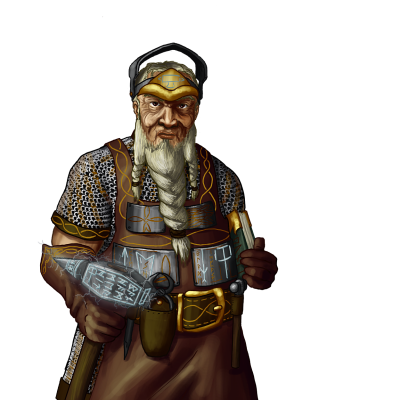 Thunderer: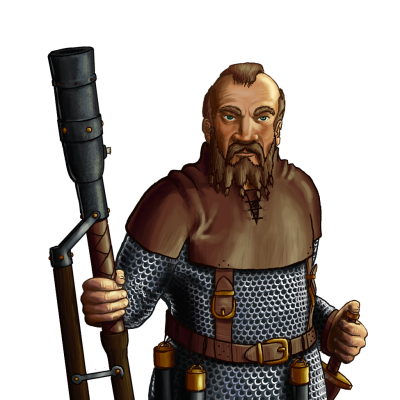 Undead
The Undead are a faction of undead creatures and human practitioners of dark arts that usually accompany them. Often, these "Dark Adepts" are the units that do the most damage for the faction, but they have a major vulnerability - their practicing of this forbidden, evil magic has consumed all their energy and so they have no melee attack at all. The Undead are a very aggressive faction and the most powerful faction at nighttime.
Undead are not really a single race of creatures, although often treated as such. Almost any dead creature can, by a sufficiently skilled necromancer, be reanimated and rise again in undeath. Undead are for the most part unnatural but mindless constructs, obeying whoever created them without question nor thought. A greater mystery of necromancy is in how constructs are sustained without continuous effort from the necromancer. An undead creature does not require the constant attention of the necromancer to command and sustain, but can work autonomously according to the commands of it's master. Only rarely, perhaps once every few months, does the necromancer need to maintain his creation.
Unique Units:
Necromancer:


Wraith: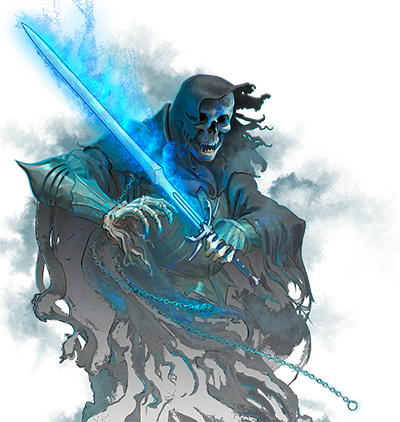 Campaigns
For making of the Campaigns, the following is the timeline of Wesnoth