GAME BUILD

#:

101.101.61321.0 8595115
GAME PLATFORM: Steam
OPERATING SYSTEM: Windows 10
ISSUE EXPERIENCED

DESCRIBE THE ISSUE IN DETAIL (below). LIMIT TO ONE BUG PER THREAD.
I've played 15 ranked 1v1 Random Map Games and still gettin the Message sayin "Not Yet Ranked".
FREQUENCY OF ISSUE

How often does the issue occur? CHOSE ONE; DELETE THE REST!
100% of the time (ALWAYS)
REPRODUCTION STEPS

List CLEAR and DETAILED STEPS we can take to reproduce the issue ourselves… Be descriptive!
Can't really reproduce it…

Here's the steps to reproduce the issue:
EXPECTED RESULT

What was SUPPOSED to happen if the bug you encountered were not present?
want to get ranked.
IMAGE

ALWAYS attach a PICTURE (.jpg, .png, .gif) or VIDEO (.mp4, YouTube link) that highlights the problem.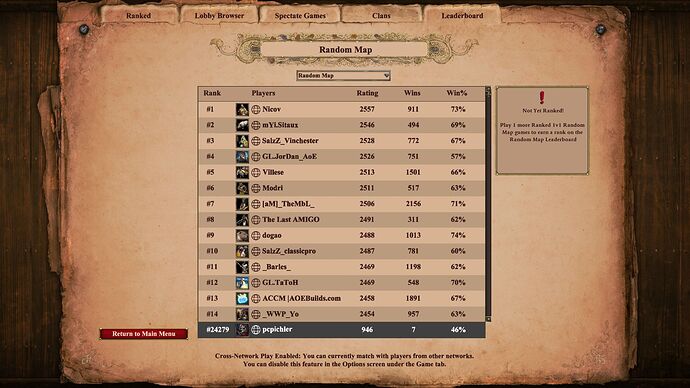 would love to send you a second screenshot, but I'm not allowed