GAME INFORMATION

These details are CRITICAL; DO NOT skip them or your issue may not be reviewed.
**GAME BUILD

#:

78174
**GAME PLATFORM: Steam
**OPERATING SYSTEM: Windows 11 Home
ISSUE EXPERIENCED
In the scenario i have attached, i have placed a trigger which deactivates villager production when a player has 50 villagers.
The trigger is named "p1 vill disable" and is located at the bottom of the triggers list
The condition is "own objects" for villager (male) and quantity of 50
and the effect is Enable/Disable objects : villager (male)
The issue is that this trigger is activating inconsistently. In one test it won't activate at all, in another it will activate when the player has 110 villagers, in another when he has 55 etc, with no changes to the map in between. So far it has never activated on 50 villagers, which make me believe that there must be a bug when counting villager numbers.
I have used the same trigger to limit fishing ships and trade carts, and it has worked normally
FREQUENCY OF ISSUE

How often does the issue occur? CHOSE ONE; DELETE THE REST!
100% of the time / matches I play (ALWAYS)
REPRODUCTION STEPS

List CLEAR and DETAILED STEPS we can take to reproduce the issue ourselves… Be descriptive!
Here's the steps to reproduce the issue:
Test the scenario
Build villagers until you cannot anymore
EXPECTED RESULT

What was SUPPOSED to happen if the bug you encountered were not present?
Normally when the player reaches 50 villagers, any further production of them should be disabled
IMAGE

ALWAYS attach a PICTURE (.jpg, .png, .gif) or VIDEO (.mp4, YouTube link) that highlights the problem.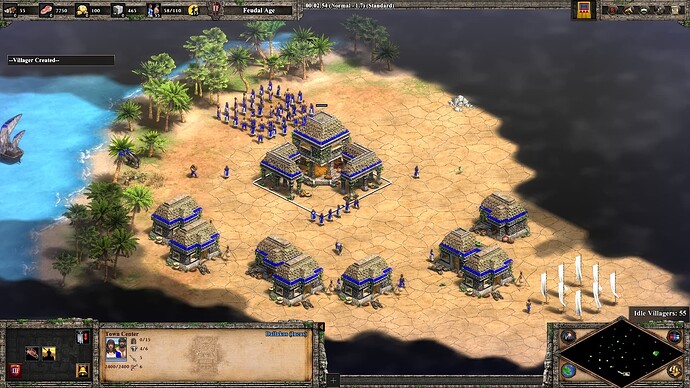 GAME FILES (SAVE / RECORDING)

Attach a SAVE GAME (.aoe2spgame) or GAME RECORDING (.aoe2record) of the match where you encountered the issue. Link it below if using an external file service.
Diplomacy-map-europe-v1.aoe2scenario (483.3 KB)