Persians are particularly bad right now, so my attention turns to them.
Persians Current Bonuses
• Start with +50 wood, food
• Town Center, Dock 2x hit points; work rate +10% Feudal, +15% Castle, +20% Imperial Age
• Team Bonus: Knights +2 damage to Archers.
Unique Techs:
• Kamandaran (Archer-line gold cost is replaced by additional wood cost)
• Mahouts (War Elephants 30% faster)
My goal, as always, is to preserve their existing theme, make minimal changes, and bring their win rate up to average.
1200+ Arabia Win Rate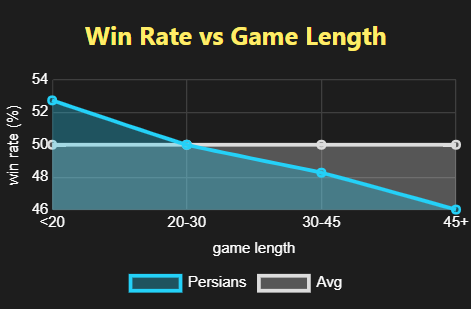 1900+ Arabia Win Rate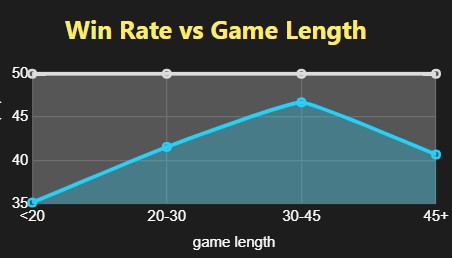 To me, the stark difference between the two winrates indicates that their early-game bonus of +50 Food and Wood is not enough. Additionally, while they have a relatively reasonable midgame, their lategame falls significantly behind.
Change 1: Enhance their free resources bonus
Following that generalist theme, and their general weakness in the early game, I'd like to change their first bonus.
• Start with +50 wood, food → Start with +50 of all resources.
This modification will make them more potent in the earlier parts of the game, and the stone bonus especially will allow them to survive longer, so their better economy can better kick in. It's also succinct and more unique than just +50 to two random resources.
Will this make them too powerful with a tower rush? I don't think so. Persians already have the Persian Douche option available, and so players are already on their guard against that approach. And combining the two tactics(tower rushing and Persian Douche) works poorly, since you can't build towers until feudal age, which delays the ###### unacceptably. On the whole, it certainly shouldn't make them any worse than, say, the Koreans.
Change 2: Move Kamandaran to Imperial Age
Next up, I would like to move Kamandaran from Castle Age to Imperial Age. Generally speaking, this tech is rare to see in the castle age, as gold is plentiful at that stage, and the discount it provides isn't generally enough to made it worth getting early on.
Combined with this, Mahouts should be removed, and rolled into the Elite upgrade. While this is not entirely ideal(as some players like to get this upgrade for their normal war elephants) ultimately the cost of not having an alternative tech is too expensive, given how little War Elephants are used.
Change 3: New Castle Age Unique Tech: Caliphs
Near the end of the Persian Empire, several caliphs were allowed to take power over their local areas, allowing them to control the area more efficiently, save on costs, and extend the fall of the empire by over a century.
Caliphs would attempt to emulate that, AND follow the theme established by Kamandaran, by offering significant retroactive savings on the Swordsman Line.
Caliphs: Militia Line returns 60% of value on death.
This bonus would have multiple effects. One effect would be making earlier investment into the militia line much more attractive, since you could recoup your investment later in the game. This would also make investing into them in the midgame much more attractive, since you could trade very efficiently with your enemies.
However, it would be self-balancing, since you cannot field a huge force immediately. You need to wait for them to die to get your resources back. In the midgame, this prevents you from being unstoppable, while in the lategame, the weakness of only having longswordsmen will keep the power in check.
Further, this would directly encourage the use of war elephants! One of the biggest challenges of War Elephants is that your normal openings of scouts into knights will prompt your enemy to go into the exact counters that shred war elephants; Monks and Halbs. By going for infantry instead, you will instead force the enemy into archers, which can then be countered by Kamandaran!
Conclusion
So, what has this achieved?
The stronger early game resource bonus will give Persians the oomph needed to get their economy going.

The prospect of having Caliphs available in the castle age will encourage more infantry play, and give them a significant castle age power spike.

More infantry play will also encourage more war elephant usage, to counter heavy cavalry and siege.

With more infantry on the field, the enemy will be more likely to go archers, increasing the relative value of Kamandaran.
Hopefully, this will gently push their win rates up by 2-3%, from a current average of 47% across all elos, to a new average of 50%.