Hi everyone, I want to propose some changes in order to make the Aztec units more historically accurate. I started talking about it in this post: Age of empires 3 is becoming Age of Europeans 3 - #167 by BaphometSLM
However, This subject clearly deserves its own thread so here it is. I'll list here every aztec units and propose some changes if needed.
-warrior: The warrior unit trainable at the community plaza should get a new skin. A generic, low rank type skin would be fine. See number 1 on the pic below.

-Warrior priest: Just like the regular military of the Aztecs, the priesthood had his own rank hierarchy.
[POSSIBLE REPLACEMENT] ==> COYOTE PRIEST: To become a coyote priest, you had to capture 6 prisonners. Maybe we could have a card which changes regular warrior priests into coyote priests, with greater fighting abilities.
This page from the Codex Mendoza shows the ranks progression of the warrior priests (above) and the regular priests (below)

-Coyote runners: coyotes never were frontline soldiers nor were they harrasing units.
[POSSIBLE REPLACEMENT] ==> TLAMANI (which means "captor"): A warrior would become Tlamani upon taking his first prisonner. In Aztec society, it was common practice for the veterans to let the less experimented chase fleeing ennemies after a battle, so they could capture prisonners and progress in the hierarchy.
Otontin slinger: His name doesn't match his appearance. He wears the papalotl banner (butterfly). This rank was achieved upon taking 3 prisonners. Simply renaming him to PAPALOTL SLINGER would do.
Puma spearman: This name is completely made up. I'm not sure what name would be appropriate for this unit. Although his pamitl (type of banner) usually meant a high rank, it could also be attributed to a prestigious warrior, but this is in contradiction with his top knot hair (elite/champion/legendary) which is a sign of low rank in the Aztec military. Any suggestion for this one would be welcome!
Arrow knight: He represents the Cuextecatl soldier. Renaming him to CUEXTECATL ARCHER would be perfect.
Eagle knight: Perfect as is!
Jaguar knight: Perfect as is!
Skull knight: The tlacochcalcatl was the supreme commander of the army in absence of the emperor himself, so this unit being massable is non-sence.
[POSSIBLE REPLACEMENT] ==> CUACHIC (Shorn one): The cuachicqueh were the most elite warrior of the Aztec army. Do I need to say more? A simple reskin of the skull knight to fit the cuachic would do. See the pic below.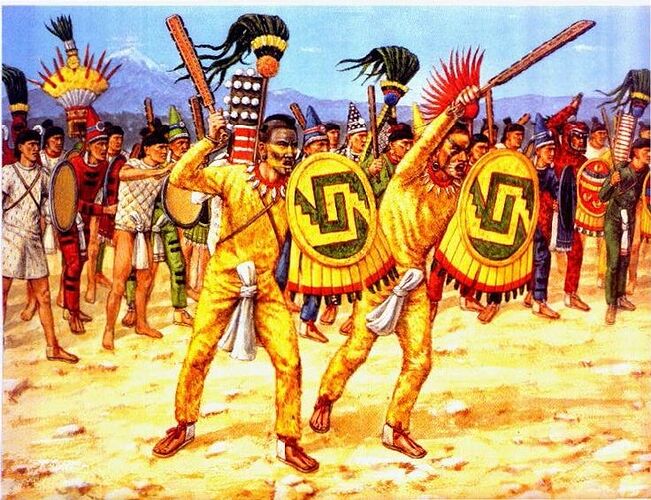 Furthermore, the actual skull knight would make an excellent skin for the warchief!
Now if we were to go further, we could even rename the war hut and noble's hut to " Telpochalli" and "Calmecac" respectively.
That will be all for now, feel free to comment, agree or not, give your own suggestions!