GAME INFORMATION

These details are CRITICAL; DO NOT skip them or your issue may not be reviewed.

report a bug about multiplayer ranked finding match in AOE II DE
GAME BUILD

#:

101.102.8319.0 (

#73855

) 10078593
GAME PLATFORM: Steam / Microsoft Store
STEAM
OPERATING SYSTEM: Windows 10 / Windows 8 / Windows 7 / Mac / Linux
WINDOWS 10
ISSUE EXPERIENCED

DESCRIBE THE ISSUE IN DETAIL (below). LIMIT TO ONE BUG PER THREAD.
so im trying to play a ranked game , i click finding match, then the error popup come, when i try to find again i click the finding match again only to see another popup saying i failed at ready the match and got the 3 hour pinalty.. i mean whyyyyyy how can i play like this at the early its only 5 min but more error as time flies it become worst and the latest is 3 hour broooo any help? or did i do something wrong ? im ready any time to click that ready match but i didnt even get the match the popup come first lol
edit : now it got worst i got 20 hours pinalty
FREQUENCY OF ISSUE

How often does the issue occur? CHOSE ONE; DELETE THE REST!
75% almost every time
error come so many time and it got worst as i got the pinalty wrongly
REPRODUCTION STEPS

List CLEAR and DETAILED STEPS we can take to reproduce the issue ourselves… Be descriptive!
Here's the steps to reproduce the issue:
click multipalyer,
ranked game,
3.click find match…and then boom the error come
EXPECTED RESULT

What was SUPPOSED to happen if the bug you encountered were not present?
i get the match, i click ready, i play the game
IMAGE

ALWAYS attach a PICTURE (.jpg, .png, .gif) or VIDEO (.mp4, YouTube link) that highlights the problem.
i'll insert it when i encounter it again… in 3 hour cos of wrongly pinalty
it got worst now its 20 hour
here is the photo
the first error said :
unable to find match. WAN internet connection error
source : automatch2Polling event
error code : 0xffffffff
extended code : 0xffffffff
clicking ok and i try to find again
then come another error :
unable to find match. failed to join match
source : automatch2Polling event
error code : 0xffffffffa
okay i try to find again and then boom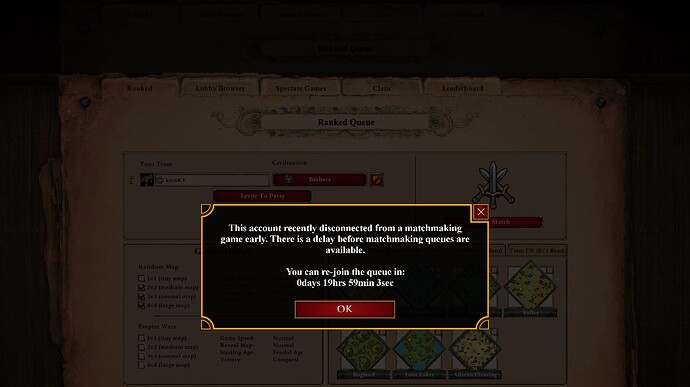 seeeeeeeeeeeeeeeeeee whats happening hereeeeeeeeeeeeee
HEEEEEEEELP IM NEW TO THIS GAME, DONT RUIN MY FUN WITH THIS
GAME FILES (SAVE / RECORDING)

Attach a SAVE GAME (.aoe2spgame) or GAME RECORDING (.aoe2record) of the match where you encountered the issue. Link it below if using an external file service.