I hope this message is not offensive or taken personally. In this publication I dare to speak on behalf of the community based on data, statistics and common themes compiled from videos, forums and social networks but without ignoring that even so there are people who think completely different. However, I must also mention that this is a majority of the community that actively plays AoE and that we not only criticize but constantly contribute ideas and solutions that can benefit the game in one way or another.
There are mixed feelings, we all have different opinions, but what we all have in common is that we all want the success of the game and the long awaited rebirth of the franchise.
For this reason we have exposed the issues that definitely concern us all, we consider the game fun and well done, but there are small details that are being overlooked and I think (correct me if I'm wrong) that we think are very important because of how basic they are and have not changed yet.
Here in this image from Aussie_Drongo there is a summary, but looking at the amount of issues and their interactions, there are 3 major problems that I really don't understand how they have not been fixed, nor why you as developers don't explain the reasons why they have not been changed despite the great discomfort: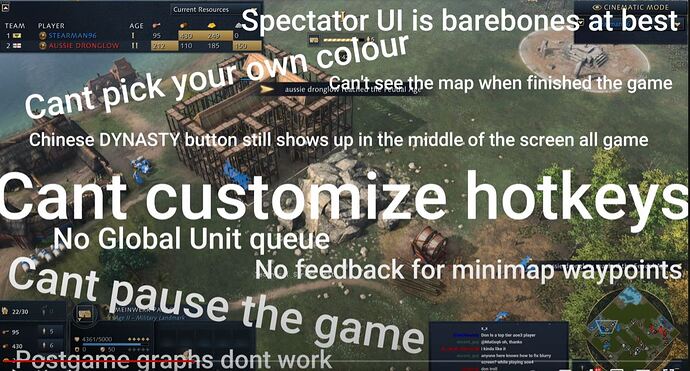 1-UI: we understand that it is part of the game design but as a community (again, based on stats and comments in different social networks and groups) we strongly disagree with the current UI of the game. It was acceptable for a beta, but for the final game it does not represent a quality aspect that justifies its implementation. It looks flat, boring and extremely basic. It is confusing and the technologies and icons are even more confusing, it is not intuitive.
2-siege machines without operators: for many it is not so important, but for others it represents exactly what we feel about the game as a whole. I make this analogy: imagine a fun game with extraordinary graphics and artistic design, but that lacks such basic things that even in games of 15 years ago were implemented and today we don't have them (aussie's image sums it up and to that we have to add the taunts, the cheats, the little bell of the urban center, scene editor and I can even mention many more). So when we see siege machines with no operators I can only see all the above mentioned impregnated in a unit…
3-Zoom: I understand that the developers wanted to give us to understand that they listened to us and they spoke publicly about it, but why ignore the other mentioned problems? of all the problems they decided to choose one and make us think that they really listened to us? and even if they fixed it a little bit, it is really so complicated to give the option of ''a beyond''?
And what about the bugs?
With each new transmission we can notice more visual bugs, do you check the content you upload? or do you don't care if the community witnesses those bugs? it really worries me the concept you have of us when you upload new material.
And what about the innovation aspects?
From the creators of COH it would be expected that you to implement so many good ideas already seen in COH or at least the ideas exposed again and again in this forum that would help to innovate a little bit more in the game, because after all you sold the idea that ´´we are listeners´´… then we expected new experiences, or factors that would surprise us and make us believe that we are playing a new game.
And what about the marketing?
They create and publish the definitive versions to create great expectations, but the new game brings nothing new and there are many who agree that the DE ones are even better (considering that they do have essential basics). And again what about the videos and content they upload that are full of bugs and even unfinished versions of the game?
Lastly, I understand that they wanted to innovate and make the game feel different and modern with the ghosts and the golden lines, but with all due respect and I'm sorry to say it but it has been nothing but a design mistake, or at least they have not been well implemented. The ghosts far from looking like they do something that adds life to the game, rather look like a graphical error, they are so fast and with strange animations (it seems as if they had been made in haste) that we do not really know what they do or why they are there and with all due respect that is annoying, and does not add absolutely anything to the game. But we have already exposed it and they could have perfectly well asked or offered alternatives instead of insisting with this design idea.
But this and all the above mentioned, we have been highlighting for more than a year… And every time we see a new transmission it is impossible not to feel disappointed and ignored.
And again, I emphasize that it is not my opinion, it is the feeling of a community, both in forums, videos and social networks.
When are they going to make a statement and give an explanation why they ignored all these elements?
It is impossible not to love this game, but their performance as developers leaves nothing but a very big dissatisfaction (without ignoring what I emphasize again, the fun gameplay and the design both artistic and sound so magnificent).
I still wish the success of this game, but if it doesn't reach it, we all know very well that we made the call a long time in advance and we did our best to contribute and help to the improvement of the game, we took our busy time to add images, videos and other files in order to give valid arguments that contribute to its improvement and the implementation of changes that will result in a great benefit for the game, and we made mentions of the previous games to help you understand that there are indispensable things of the AOE saga that today you are ignoring in a very unfortunate way.
My most sincere appreciation for all of us who contribute in this forum, and I hope that someday we will have an answer from the developers.
I just hope that October 28th is not scarier than October 31st… greetings to all!