GAME INFORMATION

These details are CRITICAL; DO NOT skip them or your issue may not be reviewed.
GAME BUILD

#:

101.102.18071.0 (

#83607

) 11179620
GAME PLATFORM: Steam
OPERATING SYSTEM: Windows 11
ISSUE EXPERIENCED

DESCRIBE THE ISSUE IN DETAIL (below). LIMIT TO ONE BUG PER THREAD.
In the fifth Trajan campaign mission of Return of Rome (Blood in the Water), if I take the time to take over all enclaves and liberate the port city in the southeast, the teal Parthians will create a Wonder in the center of the map, which will convert to dark blue Parthians immediately and give me "200 years" to breach in. Considering the strength of enemy fortifications, this is very difficult to borderline impossible to do in time.
FREQUENCY OF ISSUE

How often does the issue occur? CHOSE ONE; DELETE THE REST!
100% of the time / matches I play (ALWAYS)
REPRODUCTION STEPS

List CLEAR and DETAILED STEPS we can take to reproduce the issue ourselves… Be descriptive!
Here's the steps to reproduce the issue:
Play the fifth Return of Rome Trajan mission.
Take your time to beat all auxiliary enemy forces before going towards the central base.
Wait.
EXPECTED RESULT

What was SUPPOSED to happen if the bug you encountered were not present?
NO WONDER VICTORY. DUH.
IMAGE

ALWAYS attach a PICTURE (.jpg, .png, .gif) or VIDEO (.mp4, YouTube link) that highlights the problem.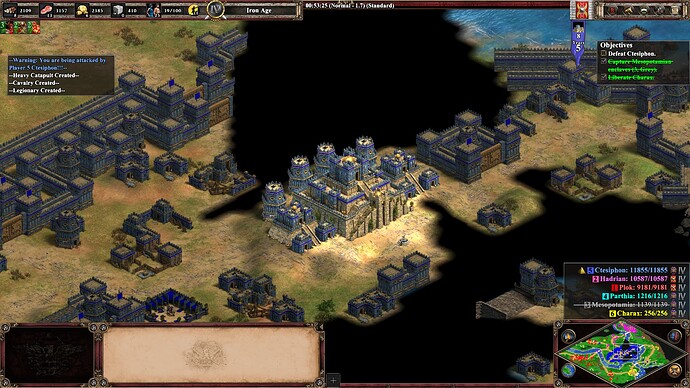 GAME FILES (SAVE / RECORDING)

Attach a SAVE GAME (.aoe2spgame) or GAME RECORDING (.aoe2record) of the match where you encountered the issue. Link it below if using an external file service.
SP Replay v101.102.18071.0 #(83607) @2023.05.21 181103.aoe2record (1.6 MB)
(BTW you need to update your forum uploader to support .aoe2rorspgame file format)