GAME INFORMATION
Preview Version 101.102.27177.0 (

#92713

) 12030901
Version 101.102.24724.0 (

#90260

) 11771158
GAME PLATFORM: Steam
OPERATING SYSTEM: Windows 10
ISSUE EXPERIENCED
Unable to place buildings-tab objects off-grid regardless of which mode is being used.
FREQUENCY OF ISSUE
100% of the time / matches I play (ALWAYS)
REPRODUCTION STEPS
Here's the steps to reproduce the issue:
Access The Scenario Editor
Select Building-Tabs Objects
Switch building modes using Ctrl+G
Place Buildings.
EXPECTED RESULT
Out of 4 modes of buildings placement, two were supposed to work in prior version.
None of these modes work for buildings-tab objects, except when using heroes/units/other-tab.
Granary is a building, but it's in other-tab so it's work like intended. On the other hand, Barrack/House/etc. in Buildings-tab cannot be placed off grid.
IMAGE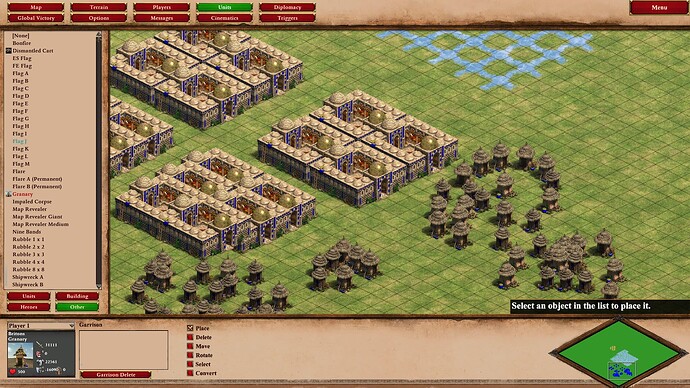 Post reproduction image. Caravanserais are grid-locked and Granaries are not restricted by grid.
GAME FILES (SAVE / RECORDING)
The link to the reproduction, please pay attention to how grid-based the Caravanserai's buildings are and how easily to place off grid Granaries are.