GAME INFORMATION
These details are CRITICAL; DO NOT skip them or your issue may not be reviewed.
GAME BUILD

#:

V. 100.12.47581.0
GAME PLATFORM: Steam
OPERATING SYSTEM: Windows 10x64 Pro
ISSUE EXPERIENCED
DESCRIBE THE ISSUE IN DETAIL (below). LIMIT TO ONE BUG PER THREAD.
Random SILENT crashes! (Event ID 1000)
Faulting application name: AoE3DE_s.exe, version: 100.12.47581.0, time stamp: 0x615ffbb7
Faulting module name: ntdll.dll, version: 10.0.19041.1288, time stamp: 0xa280d1d6
Exception code: 0xc0000005
Fault offset: 0x00000000000242b4
Faulting process id: 0x31dc
Faulting application start time: 0x01d7c9135c8e452f
Faulting application path: D:\Steam\steamapps\common\AoE3DE\AoE3DE_s.exe
Faulting module path: C:\WINDOWS\SYSTEM32\ntdll.dll
Report Id: afe1731a-bd75-47bf-ab1e-86588aeb85d5
Faulting package full name:
Faulting package-relative application ID:
FREQUENCY OF ISSUE
How often does the issue occur? CHOSE ONE; DELETE THE REST!
50% of the time / matches I play (FREQUENTLY) It's actually totally RANDOM.
REPRODUCTION STEPS
List CLEAR and DETAILED STEPS we can take to reproduce the issue ourselves… Be descriptive!
Here's the steps to reproduce the issue:
Play the game and hope for the best.
EXPECTED RESULT
What was SUPPOSED to happen if the bug you encountered were not present?
Game should not crash.
IMAGE
ALWAYS attach a PICTURE (.jpg, .png, .gif) or VIDEO (.mp4, YouTube link) that highlights the problem.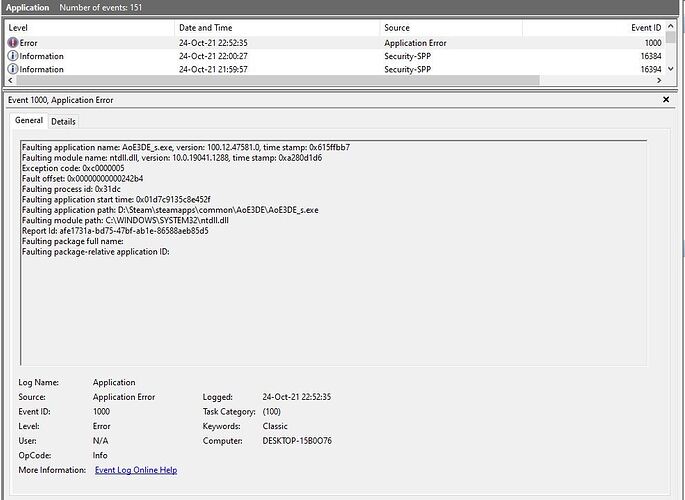 GAME FILES (SAVE / RECORDING)
Attach a SAVE GAME (.aoe3Ysav) or GAME RECORDING (.aoe3Yrec) of the match where you encountered the issue. Link it below if using an external file service.