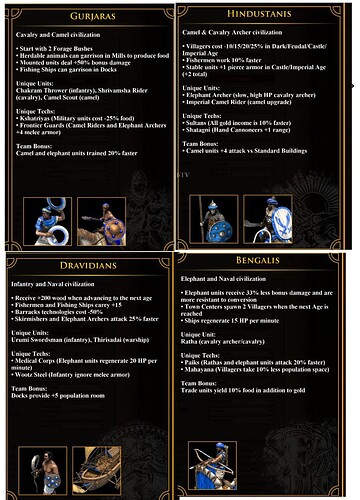 Countless arguments, posts, and complaints have been made screaming for the splitting of Italians and Teutons and Slavs into separate civs… and then there are those Age players who clamour for more African civs and North American civs to be included in a game that is already quite old, and only covers a relatively small period of human civilization: the medieval ages.
Now… technically the medieval ages or "Middle Ages" for Europe, Eurasia, the Middle East, and North Africa occurred from roughly 500 A.D. to 1500 A.D. In China, Korea, and Japan their own "medieval ages" lasted as late as the 1800s A.D., while the European continent was already jumped into the Industrial Revolution and have completed the Renaissance and moved onto the Age of Enlightenment and Age of Science.
Anyway… suffice to say that the whole historical accuracy of Age of Empires II is not perfect. But based on how Age II's predecessor and successor have operated: Age I and Age III respectively, we know that only the most Ancient of civilizations belong in Age I, and the more technologically advanced and "scientific" nation-states (key word: nation-states) belong in Age III.
Age II is the middle man here: regions that were not quite "nationalistic" to be put into Age III but not so ancient to be put into Age I. The Byzantines for examples, i.e. the medieval Romans, or at least the Ancien Romans Greco-Roman descendants, are not ancient in the slightest as the Byzantine state was very much medieval in politics, military development, and technology.
Basically what I am saying is that North Americans and most other South Americans outside of the Incan-Andean Empire are not suitable in Age II; they are too primitive, and they especially remained isolated well into the Early Modern Era, until encroaching Europeans, such as the Spanish and Portuguese, forced drastic changes in their cultures so that they began using muskets and iron weapons to combat the European threat. But all that is more suited for Age III, as Age III already has done. Any argument that we need more Meso-American civs in Age II is frankly, foolish. Aztecs, Mayans, and Incans already cover both North and South American continents for Age II representation.
(Side note: perhaps the Olmecs should be added into Age I to represent ANCIENT Meso-Americans? Wouldn't that be something!)
As for Africans, methinks that the Nubians (medieval Sudanese) can be added as one more African civ… but after Malians and Berbers and Ethiopians… there is not much else of African civs that have properly connected with the rest of the world in medieval age time period. The Chinese, Japanese, and Koreans, mind you… were indeed in their "medieval era" at the same time Europe and Eurasia were in their medieval era, and the embassies, the Silk Road, and the Mongol Empire stretching out and further connecting the two far flung regions proves that Eurasia shared a similar time period. It is just that the Europeans advanced faster than the East Asians and Middle Easterners could catch up, hence they the former was in the Early Modern Era while the latter two remained Medieval.
Anyway…
Back to what I said in the beginning: Italians and Teutons should not be split up. The former, represents the entire Italian peninsula (Sicilians are more of an add-on, not a "civ split" as Italians never changed. Same goes with Burgundians, while Franks civ remained as-is) and does it quite well. Italians civ clearly represents the maritime might of Venice, Genoa, Ragusa, Pisa, and Amalfi… all thalassocracies (maritime nations) with the emphasis of good archers, infantry, and gunpowder which ALL Italian city-states shared. Sure, the UU is clearly stated to be "Genoese Crossbowman" i.e. from Genoa, which has pissed off Venetian fans in the Age fandom… but all Italian powers throughout the medieval ages shared an emphasis on crossbowmen, plus Genoese Crossbowmen themselves were hired out as mercenaries both throughout Italy within, and without. Sames for the Condotierro, units not exclusive to either Venice or Genoa or the other Italian powers.
If you split the Italians civ, you will only cause more problems for this videogame. Same goes for Teutons: it would be hard to justify unique Wonders, civ-special units/Unique Units for each Germanic civ like Bavarians, Austrian/Hapsburgs, Saxons, Westphalians… when the one and only "Teutons" civs currently already covers them all quite well.
Now… why is the Subcontinent so special then? Why do the Indian civ get split then? "It is not fair!" I hear you all cry out…
Well, dear reader, the Subcontinent is very much like a "continent" in that it is very very diverse politically AND culturally ANd linguistically. I have a best friend who is Indian, and he very much hammered home to me the education that there are a dozen unique languages in India alone and even several "Indian races". Now… as far as Age II is concerned, the medieval history of India is such that there were quite stark differences between regions, such as the Hindustani peoples and the Dravidians down south.
Unlike the Venitians and the Genoese, the Dravidians and the Hindustani had sizeable differences: their races were quite different in their peoples' size, their skin colour, their languages' root origin, and style of government and military. Now… of course them being rivals to each other throughout the Ancient and medieval time periods have resulted in the Hindustani and Dravidian peoples sharing some ideas, social customs, and military styles with one and the other… but they remained pretty much culturally divided until only more recently, in the 19th century (even then, some historians claim that they are not quite one and the same people living in India as "Indians"). Genoese and Venitians were nearly the same to each other back in the Middle Ages as they are today; their "divide" was not much in civilization as it was by politics. Venetians were the Republic of Venice and the Genoese were of the Republic of Genoa/Duchy of Milan. But both were "Italian" even if they did not want to admit it then and only did so later in the Napoleonic era of the 19th century, when true Italian nationalism took root.
The same is for the Germans, i.e. "Teutons". All the political divides were all political. Not cultural. Bavarians, Saxons, Austrians were all very much "Teutonic" in the Middle Ages. One civ covers them nicely.
Same goes for the Vikings. Swedes, Danes, and Norwegians are all nicely summed up in this great videogame as "Vikings".
Now there have been calls for Slavs to be renamed "Rus" and be split up into separate civs. Well, the "Slavs" here in this game are pretty much "East Slavs" while West Slavs finally got representation via Poles, Bohemians, and Balkan Slavs by Bulgarians (methinks that perhaps Bosnians/Croatians can be added as one or two new Age II European civs, but that is for another discussion). If you study medieval Belarusian, Russian, and Ukrainian history, as I have… you will note that much of that region was all Boyar country. The Slavs in-game have the Boyar as a UU, and speak a Russian dialect which is not all too-different from Ukrainian and Belarusian today. Therefore, Slavs currently is fine as is, being the civ that represents all "East Slavs" which the Ukrainians, Russians, and Belarussians indeed are.
Anyway, that is all I got for today. Go away, now!