GAME INFORMATION
GAME BUILD

#:

all builds up to date (2022/06/03)
GAME PLATFORM: Steam
OPERATING SYSTEM: Windows 10
ISSUE EXPERIENCED
My button for steam invites is greyed out in the game client.
AND if I right click on a friend in my Steam list, it doesn't show 'Invite to lobby'
I guess it's a privacy option, but I am not sure.
I have this issue on multiple computers and also after reinstalling OS/game client.
FREQUENCY OF ISSUE
100% of the time / matches I play (ALWAYS)
REPRODUCTION STEPS
Here's the steps to reproduce the issue:
Start game client.
Try to invite people for a ranked team game.
It also doesn't work, if already one player joined the lobby by the ingame invite function
EXPECTED RESULT
Steam Invites is not greyed out, in Steam it shows 'Invite to lobby' upon right click on a friend.
IMAGE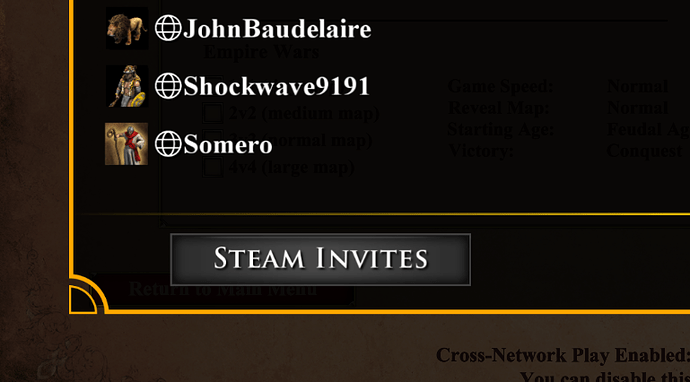 GAME FILES (SAVE / RECORDING)