Though it is not an important issue which affacts the gameplay, I really hope the FE devs can fix this issue. No hitting particles of trebuchet was an issue since several months of updates ago, the particles only exist without researching Chemistry. The only way to see the particle with Chemistry researched is to use CaptureAge to see a record game.
This is how hitting looks like without Chemistry:
You can see no flames inside because no Chemistry researched, that make sense.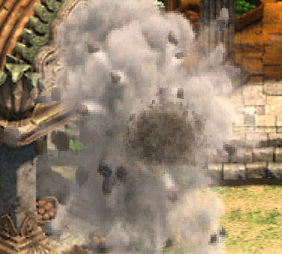 This is the one with Chemistry (captured by CaptureAge), but it only appears with tool CaptureAge, you cannot see this particle in the game. There are flames within the explosion, but I have never seen this particle.