It takes a long time and a lot of effort to see exactly what maps look like. Could there maybe be a standalone map viewer tool made and accessible from in-game, or some other way (mouse-overs?) to see what the maps actually look like before you play them, rather than only cartoony caricatures?
I believe there are 81 maps at the moment. Here are just 24 of them: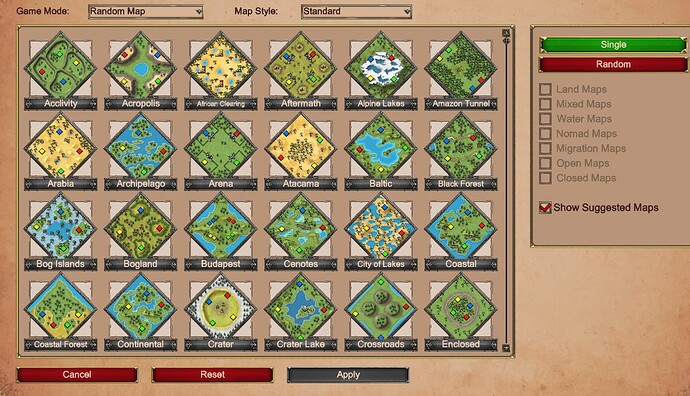 Sometimes when you actually see maps in-game, they are visually desirable… but you don't get that sense at all from the caricatures. Others are ones you personally want to avoid. Some maps have neat features, terrains, colors, animals, or the like, but you won't know until you click on each one, set up a lobby for each one, wait for the game to load for each, view it as "All Visible" for each, and then exit the game and do it all over again for a different map or to turn "All Visible" off.
Going through 10 takes a lot of effort, imagine trying to go through all 81. And then try to remember what all 10 or 81 actually look like hours, days, a week, or months later.
When trying to find a map to play, sometimes even a new one that you've not seen before, it's a coin toss as to whether you'll like it and want to play it or not. And having to set up the lobby again and again until you find one you like is time-consuming. I just give up and quickly revert to a map I know after one or two unsuccessful attempts. And it's even more impossible to test very many maps when you're trying to set up a game with friends, as then you have to re-invite them to the lobby each time, potentially.
Thought some map tool would be pretty beneficial?