The Portuguese
EXPANSION, TRADE, GUNPOWDER
868-1580
"Let us hear no more…of Ulysses and Aeneas and their long journeyings, no more of Alexander and Trajan and their famous victories. My theme is the daring and renown of the Portuguese, to whom Neptune and Mars alike give homage."
Luis de Camoes - Lusiads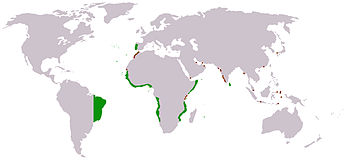 Portugal is the oldest nation state on the Iberian Peninsula and one of the oldest in Europe, its territory having been continuously settled, invaded and fought over since prehistoric times. It was inhabited by pre-celts and Celtic peoples, visited by
Phoenicians, Carthaginians, Ancient Greeks and ruled by the Romans, who were followed by the invasions of the Suebi and Visigothic Germanic peoples.
After the invasion of the Iberian Peninsula by the Moors, most of its territory was part of Al-Andalus. Portugal as a country was established during the early Christian Reconquista.
Founded in 868, the County of Portugal gained prominence after the Battle of São Mamede.(1128). The Kingdom of Portugal was later proclaimed following the Battle of Ourique (1139), and independence from León was recognized by the Treaty of Zamora. (1143).
In the 15th and 16th centuries, Portugal established the first global maritime and commercial empire, becoming one of the world's major economic, political and military powers.
During this period, today referred to as the Age of Discovery, Portuguese explorers pioneered maritime exploration.
During this time Portugal monopolized the spice trade, divided the world into hemispheres of dominion with Castile, and the empire expanded with military campaigns in Asia.
Disclaimer: balanced bonus and percentages are not my area of expertise, suggestions welcome

Portugal:
Civs Bonus
Fortified Town Center: Town centre has higher HP and a defensive fortification.
Portolan Charts: Ships and Scouts have 30% line of sight increased.
Fishing Boats have 10% gathering rate increased.
Feitoria: Can build a feitoria add on to neutral trade posts from the castle age (powerfull defensive building with weapons emplacement) denying acess to enemy faction traders until the building is destroyed.
Maritime Insurance: Receives 25% back of resources spent per sunk ship.
Matchlock Arquebus: Gunpowder units have +x% of range.
Influence system:
First Global Empire
Increased gold generated from trade posts by 50%.
Unique units:
Espingardeiros
These handgunners were a portuguese military squad whose emergence is noted during the second quarter of the fifteenth century. They obtained a considerable representation in the king's army becoming one of the military corps that composed it.

Caravel
The caravel is a small highly-maneuverable sailing ship developed in the 15th century by the Portuguese to explore along the West African coast and into the Atlantic Ocean. The lateen sails gave it speed and the capacity for sailing windward beating.
Caravels were used by the Portuguese for the oceanic exploration voyages during the 15th and the 16th centuries, during the Age of Discovery.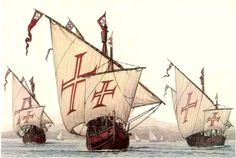 Grand Carrack
Precursor to the great galleon of later centuries, the Grande Carrack is a superior version of the Carrack, used in the late 15th century and early 16th century.
The Portuguese carracks were usually very large ships for their time, often over 1000 tons.
(The Grand Carrack should double as transport ship, allowing the Portuguese player to mimic the combined arms amphibian assaults used on the conquest of fortresses at Morocco and East Asia.)

Adventurers
From the mid-15th century onwards, the lower and middle-ranking leadership of Portuguese expeditions and of the resulting overseas outposts were the fidalgos – gentlemen descended from the old knightly class.
Fidalgos, who were nobles, clad head to toe in an expensive full set of armour, always at the top commanding positions, and also formed the veritable "spearhead" of assaults. Most notably, they wielded some scary two-handed swords the Portuguese called montante.

Fortified Town Center Trains Leader Unit (Fidalgo: Infantry Greatsword unit, offensive aura ability.
("Hero" unit)
Unique Techs:
Foral:
Increases farm yield in the TC area of Influence (Feudal)
Conto Crossbowmen:
Increases Crossbowmen damage (castle age)
Lateen Sails (Castle age)
Increased 20% ship speed.
Reinforced Decks (Imperial age)
Unlocks cannons on Caravels
Increases cannon damage by 10%
Ordenancas
Unlocks Halberd weapon for Elite Spearman (Imperial Age) bonus vs infantry.
Unique Building: Feitoria
Strong defensive building with cannons that can be built on neutral markets. Can be Garrisoned.
Increases gold received from trade route by 50%.
Blocks enemy faction traders.
Dark Age:
Starts with Fortified Town Center.
Instead of building further town centers TC, further expansion is done with building called called Colonial Fort. (Can only be built from castle age).
Colonial Fort (Castle Age)
Strong defensive building that can train Villagers albeit at a slower rate.
Can be upgraded with springalds and cannons.
Can Garrison units.
Starts with a Fidalgo as a Hero that buffs units.
Landmark Castle of Guimaraes.


Area of effect that inspires land units.
Can Train Cavaleiros Viloes (Light Melee Cavalry bonus damage vs other Light Cavalry)
Landmark Convent of Christ
Can store relics in the building giving increasing tech research speed.
Can train Order of Christ early Heavy Knights.
Knight of the Order of Christ Fidalgo upgrade allowing him to capture relics.

Feudal:
Can train Crossbowmen at Archery Range.
Can Train Almogávares (Javelin Light Infantry) on Archery Range.
Stables Can Train Cavaleiros Viloes Light Cavalry, and Cavaleiros Fidalgos Heavy Cavalry.
Castle of St.George Landmark (Defensive Building)

Castle Age:
Can now build Barracks
Barracks Train Guisarme Infantry /Men at Arms with Sword and Shield
Archery Range unlocks Conto Crossbowmen upgrade
Caravel unique unit (can trade)
Landmark Monastery of Battle (army based bonus)

Tower of Belem landmark ( navy based bonus)
Imperial Age
Grand Carrack unique unit
(Can transport up to 15 units) São João Baptista (galleon) - Wikipedia
Espingardeiros do Conto (handgunners)
Adventurers (heavy elite infantry with Montantes) good vs mass melee units
Ordenancas upgrade for Guisarme infantry, equips Halberdier bonus attack vs Infantry
Montante Upgrade for Fidalgo
Unlocks Captain Major Upgrade allowing him to board Grand Carrack ship turning into a flagship, improving its stats.
Wonder
Jeronimos Monastery

In short first 2 ages focus on the Reconquista and wars against neighbouring Castille.
In these times frontier townspeople had a high degree of preparation and often formed the bulk of the armies during summer months. The military orders provided much needed Lances for campaigns, as well the rich towns people that could afford horses, weapons and armour.
Military Orders also contributed for the conquest and defence of the land and large swaths of land were granted to them to help repopulate during the Reconquista.
From castle age Portugal focus on trade bonuses and professional men at arms representing the start of the Portuguese Expansion into North Africa and the rest of the world. Militar orders role eventually diminished as Portugal tactics shifted from Cavalry to Infantry at the turn of the 15th to 16th century.
Due to limited human resources Portugal adopted a restricted model of occupation, where forts would be used to defend surrounding lands, and hold out for reinforcements.
Portugal should focus on Naval and Gunpowder tech, with elite Ordenancas (Halberdiers) and Aventureiros (Greatswords) and Espingardeiros (Arquebus).
Colonial Forts, smaller and cheaper, provide the much needed map control for the player, that can produce villagers albeit at a slower pace.
Garrisoning ranged units on it improves their defensive capabilities.
Portugal was never a populous country so defend your villagers.
With the change of infantry tactics (from the swiss and italian wars) and campaigns overseas that often included disembarking from boats where horses weren't used, having the option to embark/ disembark carracks a port player can mimic the shock and awe amphibian warfare style, where they would disembark under the cover of ship cannon fire to storm enemy positions, that the Portuguese historically did across at Morocco and Asia.
de Brito, P. (2008). Knights, Squires and Foot Soldiers in Portugal during the Sixteenth-Century Military Revolution. Mediterranean Studies, 17, 118–147. http://www.jstor.org/stable/41167395
![8d73c-680024_orig|600x402]
Some eye candy in no particular order: