Both building similarity is they spawn unit units for free case closed, but is it? Well I decided to calculate the total cost and spawning time of both Summer Palace and Dojo before any card is being used, and compare the result between each other to see the resource/second it generates.
Turns out the result is very suprising like this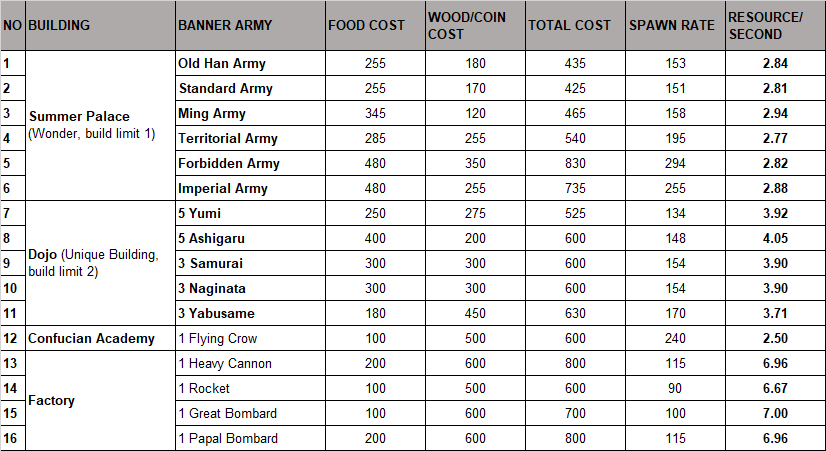 I can't believe that a single wonder can lose against a unique building that have 2 build limit and can be created again if destroyed by explorer. Summer Palace most valued unit is Ming Army 3 Qiang + 3 Keshik at 2.94 resource/s which is much lower than 3 Yabusame which valued at 3.71 resource/s at Dojo.
There is some tech and card that influences the spawning rate, for Summer Palace it is:
Banner School (Age2, Build Time +23%)
Acupuncture (Age3, Build Time +15%)
While for Dojo it is
Bakufu (Age3, Build Time +10%)
Kamidana (Age4, Build Time +33%)
If the Mass Cavalry and Standing Army church tech also affect the train time, then Dojo would get even more value, still 2 unupgraded Dojo each spawning 5 Ashigaru is equal to 1.5 upgraded European Factory at age 3. The only limiting factor why this card isn't in deck because Japanese already got many good Age3 card in deck.