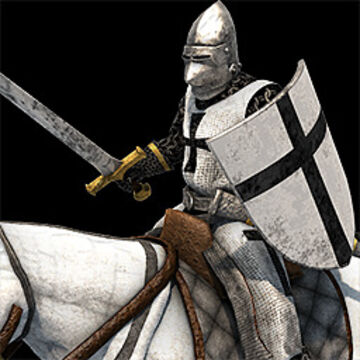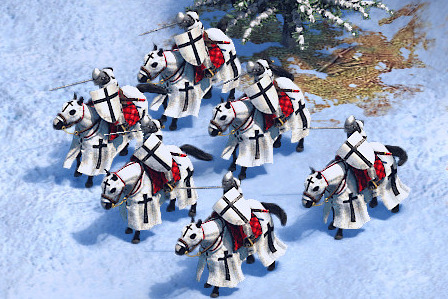 TYPE
Cavalry
TRAINING TIME
30 seconds
STATISTICS
HIT POINTS
100
ATTACK
18
RATE OF FIRE
2
MELEE ARMOR
4
PIERCE ARMOR
4
ARMOR CLASSES
Cavalry
SPEED
1.2
LINE OF SIGHT
5
Special ability: unable to be converted
---
With this unit replacing the cavalier upgrade for Teutons it will go hand in hand with their crusader Deus Vult faith theme and will be all-round cooler to use.
Add the first scout upgrade - remove stable bonus - increase barracks bonus to +1/0 armor in castle age, +1/1 in imperial (+2/1 total)
The main features of the Teutons are their infantry, siege and defensive structure/boom potential- their cavalry can be powerful, but should not be their main feature - replacing the cavalier upgrade with crusader knight and removing paladin gives them a clear spike over the cavalier upgrade while not being so powerful as a paladin - that alongside with the addition of the scout light cavalry upgrade and the removal of the stable side of the bonus helps to keep the civ balanced while refocusing the bonus fully towards their infantry.
---
Additional ideas from previous threads + additions:
Imperial unique tech effects town centers
Or
Additional civ bonus: increases town center range by 3 in castle age. (Brings Teutons back to their roots in a balanced way)
Or
increases town center range by 3 upon reaching castle age and having a castle built or upon building a castle(both of these conditions would need to be reached for the range to be increased)
Imperial tech stone cost changed out for woodcost(like how Turks' were changed)
Additional bonus: Garrisoned relics are visible.
Side-change:
Lithuanians :
unique tech adds +3 range and +2 attack to town centers to increase its viability as well as to differentiate it from the Teuton's bonus.
Similar tech change:
Celts
unique tech 'strongholds' also effects town centers on top of their current effect towards castles.
(Part of this Idea seen somewhere)
Sicilians:
first crusade - spawns crusader knights instead of the serjeant
Sicilians also gain the crusader knight upgrade instead of cavalier similar to Teutons.
Or the first crusade is the only source of the crusader knight for sicilians - possible, but could be balanced another way - for instance - first crusade moved to imperial age, hauberk changed out for something more appropriate like donjons + 10 garrison space, +2 attack and +1 or 2 additional arrows and may garrison cavalry.
Incas:
Fabric shields mixed with their old tech
Effect:
+1/2 armor on kamayuks, slingers, eagles and increases eagle speed by x%(to that of a knight with husbandry after squires )
Team Bonus: farms, mills, mill upgrades and wheel barrel built/researched 100% faster
Andean Sling : switched out for a tech that increases villager and house armor by 2/2
Villagers effected by infantry upgrades starting in castle age(squires, arson)(which includes blacksmith infantry upgrades)
---
(Added from comment 78)
I'm thinking this for sicilians atm:
First crusade:
Increased cost,
Spawns non-elite Teutonic Knights,
Hauberk:
replaced with a donjon tech for +attack/more arrows/garrison space, and/or allows serjeants to repair siege
Cavaliers replaced with crusader knights upgrade.
Tech cost/research time to be balanced
This gives them an early (or late) unit to help vs melee types and to help vs trash if needed while giving a nod to history of them having the Teutonic Order garrisoned with them at some point.
As well as a fun crusader unit of their own for their 'second crusade'.
---
However it may be more accurate to replace hauberk with 'third crusade' and spawn elite teutonic knights while keeping 'first crusade' the same as it is now.
http://www.bestofsicily.com/mag/art220.htm
Petards doing x2 damage vs foundations in general would be a fun change as well as giving them a 'faster moving' elite upgrade perhaps which would increase their danger rating vs siege and unbuilt buildings as well as help in reaching fully built/defended castles.
(For all civs)