I know most of my topics gets ignored and since aoezone is ded, this might the last place to talk about it but at least i want you to notice it, instead of the common 100 civs petition daily.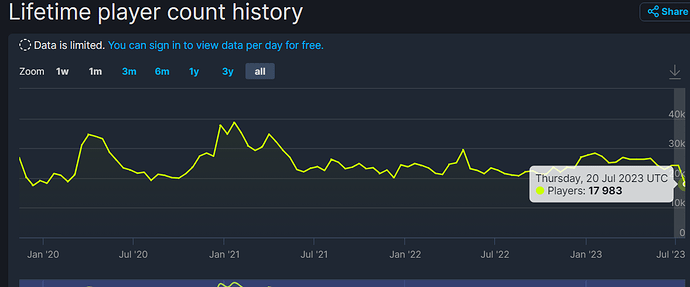 We have been losing active players, those numbers are even lower than during the aoe4 nonstop 200k usd events, but why?
We are not talking about covid now, in fact the peak of the game was on 2021 several months after the pandemic event beginning, those numbers are nothing but the pure image of the current situation with the game, bugged, awful path finding, punishing match making system, forced settings, etc, i can go all day, but the devs need to actually work on that instead of moar roman like civs and moar +20 hidden attack blast damage flying unit mechanics.
All the efforts need to be focused on the game stability and match making evolution into a more friendly environment rather than the punitive system that some minorities pushed into the game cause in order to grow we need to keep the numbers and the players interested.
Learn from your biggest failures, starting with the punishment patch, followed by the release of broken units and mechanics cause you have been changing the game so badly, everyone who know how to play disliked SR or diskthrower cause they are just broken and are completely irrational, instead of fixing the code that got broke cause of those mechanics being added, the devs should have focused on the game path finding and stability period.
Look at those numbers, it shouldn't be like that, specially after the xbox port who in theory should have added more players meaning more active users and they should be reflected even on steam cause the boost on activity, but the thing is…it wasn't a success, even i was expecting more players from that platform but the numbers don't lie(see aoe2 insights about xbox numbers). The roman expansion with its 47% negative score which by the way broke the game so bad that at this point it hasn't been fixed.
Those numbers should interest to all users around despite if you play SP with hacks enabled, cause the tendency is to keep losing players cause there are no conditions to keep the players interested on the Multi Player, the devs need to act quickly to change that tendency cause the players change their interest so fast, remember there is a big RTS game coming soon that might steal the pro players again and all the attention which could annihilate all the S+ tier events due to the low viewership, without pro activity and events, this game won't be different than the hd and voobly.