GAME INFORMATION
These details are CRITICAL; DO NOT skip them or your issue may not be reviewed.
GAME BUILD

#:

101.101.56005.0 7694700
GAME PLATFORM: Steam
OPERATING SYSTEM: Windows 10.0.19044.1387
ISSUE EXPERIENCED
DESCRIBE THE ISSUE IN DETAIL (below). LIMIT TO ONE BUG PER THREAD.
在之前的版本中,村民如果已有目标,先驻扎城镇中心,取消驻扎时会在目标方位放出。更新后这仍然工作,但如果城镇中心设置了聚集点,村民则会变成在聚集点的方向放出,希望修复一下,在封建早期提交木材更换农田用的非常频繁。
In the previous version, after the villager who has work target garrisoned inside TC and then ungarrison, he will appear in the target direction so that can action faster. This still works after the update, but if the TC have placed a gather point, the villager will appear in the direction of the gathering point. Hoping to fix it.
FREQUENCY OF ISSUE
How often does the issue occur? CHOSE ONE; DELETE THE REST!
100% of the time / matches I play (ALWAYS)
REPRODUCTION STEPS
List CLEAR and DETAILED STEPS we can take to reproduce the issue ourselves… Be descriptive!
Here's the steps to reproduce the issue:
Let the villagers in the west work at any resource point in the east.
When he passes TC, press Alt + right mouse button to let him garrisoned in TC.
Now you will select TC automatically and press F immediately. The villagers will automatically appear in the east. If the resource point is close enough, the villagers will appear directly in the resource point.
EXPECTED RESULT
What was SUPPOSED to happen if the bug you encountered were not present?
No matter whether TC has set up a gathering point or not or anywhere, villagers should come out from the direction of their work place, not from the direction of the gathering point.
Please note that I'm NOT confused about the difference between F and G. All I'm talking about is using F, sending villagers back to their last job. The F key behaves differently before and after the update, which should be considered a bug if not intentional.
IMAGE
ALWAYS attach a PICTURE (.jpg, .png, .gif) or VIDEO (.mp4, YouTube link) that highlights the problem.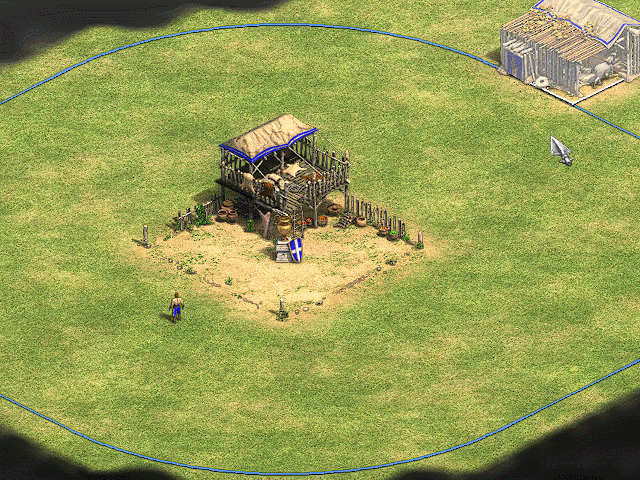 I also posted it here
GAME FILES (SAVE / RECORDING)
Attach a SAVE GAME (.aoe2spgame) or GAME RECORDING (.aoe2record) of the match where you encountered the issue. Link it below if using an external file service.