I just noticed that some units of the scenario editor in spanish have the same name. This is quite annoying when you are trying to make triggers. Here is an example: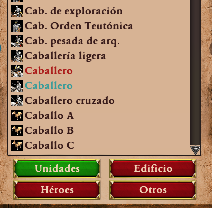 Caballero stands both for the knight and cavalier, same happens with the Donjon and tower.
In general , translations need to be improved.
The scout name ''caballeria de exploracion'' should be changed to ''explorador'' which is shorter and more accurate. Otherwise, by the time I finish writing ''I'm sending some scouts to your base'' in Spanish to help my teammate, he'll already be defeated.