GAME INFORMATION

These details are CRITICAL; DO NOT skip them or your issue may not be reviewed.
GAME BUILD

#:

Current
GAME PLATFORM: Steam
OPERATING SYSTEM: Windows 10
ISSUE EXPERIENCED

DESCRIBE THE ISSUE IN DETAIL (below). LIMIT TO ONE BUG PER THREAD.
When modding something using the new aura affect (like the Caravanseari), if the affect is given as a task to a building that can train units, clicking any of the objects that would be affected by the aura becomes possible, even when it shouldn't be. For example: If a Town Center has been given the new task, and would increase the work rate of nearby civilian units (class 4) by 10%, whenever the TC is selected, if the player clicks on a civilian unit (villagers), the green circle of the gather point being placed will appear, but the gather point won't be set to the vil. This is extremely problematic, because it rules out a lot of the things the aura could do for modding, as it's much harder to play when you can't set the gather point onto food under the Town Center like you normally would, because the game treats it as clicking a shepherd, without actually changing the gather point.
FREQUENCY OF ISSUE

How often does the issue occur? CHOSE ONE; DELETE THE REST!
100% of the time / matches I play (ALWAYS)
REPRODUCTION STEPS

List CLEAR and DETAILED STEPS we can take to reproduce the issue ourselves… Be descriptive!
Here's the steps to reproduce the issue:
Create a copy of the empires_x2.dat file in a mod, and add the new task 155 to the Town Center (ids 71, 109, 141, and 142).
This task should be configured to effect class 4, work value set to 0.1, work value 2 should be 1, range is 9 (although anything should work), search wait time is 13 (increases productivity) and unused flag should be 5 (show range indicator and multiplier style effect). Leave the unit combat class as 2, because this will take effect even without generating the aura.
Load the datamod and test the game. Select the Town Center and click on any villager.
EXPECTED RESULT

What was SUPPOSED to happen if the bug you encountered were not present?
Adding the aura task doesn't allow selection of units that shouldn't be selectable.
IMAGE

ALWAYS attach a PICTURE (.jpg, .png, .gif) or VIDEO (.mp4, YouTube link) that highlights the problem.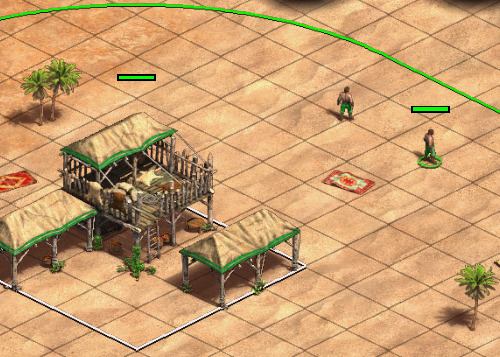 GAME FILES (SAVE / RECORDING)

Attach a SAVE GAME (.aoe2spgame) or GAME RECORDING (.aoe2record) of the match where you encountered the issue. Link it below if using an external file service.