GAME INFORMATION
These details are CRITICAL; DO NOT skip them or your issue may not be reviewed.
GAME BUILD

#:

I still have no idea what this is supposed to be
GAME PLATFORM: Steam
OPERATING SYSTEM: Windows 10
ISSUE EXPERIENCED
DESCRIBE THE ISSUE IN DETAIL (below). LIMIT TO ONE BUG PER THREAD.
A recent game update said that villagers pathing was fixed, it is not.
This villagers take extremely awkward paths when they are ordered to achieve a task, whether it's building, or collecting resources.
When asked to build, they often walk three to FIVE tiles away from the location of the building before they turn around, instead of simply turning around.
When asked to collect resources, they often "disco dance" (example in video below) before they start collecting, and they have to be individually retasked to go to a specific location near the resource so that this "disco dance" stops.
I consider this to be the most annoying issue in DE, since villagers are the heart of the game. It has been there since DE came out, and it's only getting worse. It's high time that it was fixed.
FREQUENCY OF ISSUE
How often does the issue occur? CHOSE ONE; DELETE THE REST!
100% of the time / matches I play (ALWAYS)
REPRODUCTION STEPS
List CLEAR and DETAILED STEPS we can take to reproduce the issue ourselves… Be descriptive!
Here's the steps to reproduce the issue:
Order a group of villagers to collect a sheep or a cow
Or place a building on the same tile as the villager is standing on
Watch the disco dance
EXPECTED RESULT
What was SUPPOSED to happen if the bug you encountered were not present?
The pathing is supposed to work. Villagers should walk directly to their goal and turn around efficiently, not 5 km further. Just look at the video I posted below, why are the 2 villagers doing a bonfire dance around the others ?
And at the end, why does the last villager stops 1 tile away from the cow, turns around and goes all the way to the other side, only to find itself blocked by passing sheep, and here again he decides to go all the other way around instead of waiting a microsecond for the sheep to pass ? I picked this video because it's from my last game, but I have experienced situations which are even more ridiculous than this one, believe it or not.
IMAGE
ALWAYS attach a PICTURE (.jpg, .png, .gif) or VIDEO (.mp4, YouTube link) that highlights the problem.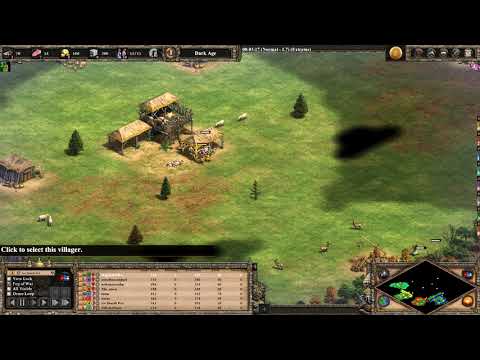 GAME FILES (SAVE / RECORDING)
Attach a SAVE GAME (.aoe2spgame) or GAME RECORDING (.aoe2record) of the match where you encountered the issue. Link it below if using an external file service.
The recording is in the video above.