GAME INFORMATION

These details are CRITICAL; DO NOT skip them or your issue may not be reviewed.
GAME BUILD

#:

101.102.20078.0
GAME PLATFORM: Xbox
**OPERATING SYSTEM: Xbox series x
ISSUE EXPERIENCED

DESCRIBE THE ISSUE IN DETAIL (below). LIMIT TO ONE BUG PER THREAD.
Visual graphics bug where the graphics are torn and look glitched. The trees, buildings, resources, and units all appear as normal but the ground/water/farms are black or rainbow colored making it very difficult to play as you. on addition. To the ground looking glitched the minimap is completely unreadable. This has now happened 3 times to me twice on Black Forest and once on costal
FREQUENCY OF ISSUE

How often does the issue occur? CHOSE ONE; DELETE THE REST!
Less than 25% of the time / matches I play (RARELY)
REPRODUCTION STEPS

List CLEAR and DETAILED STEPS we can take to reproduce the issue ourselves… Be descriptive!
Here's the steps to reproduce the issue:
Unsure
EXPECTED RESULT

What was SUPPOSED to happen if the bug you encountered were not present?
The ground and mini-map appear as normal
IMAGE

ALWAYS attach a PICTURE (.jpg, .png, .gif) or VIDEO (.mp4, YouTube link) that highlights the problem.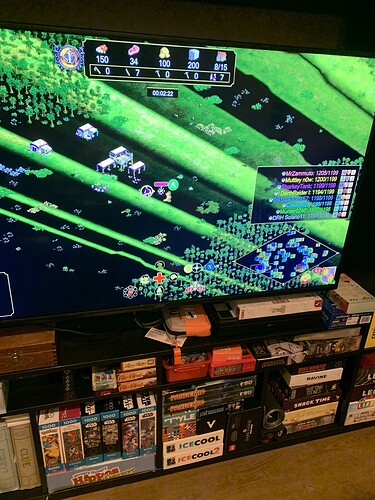 GAME FILES (SAVE / RECORDING)

Attach a SAVE GAME (.aoe2spgame) or GAME RECORDING (.aoe2record) of the match where you encountered the issue. Link it below if using an external file service.
*as it was on Xbox I saved recording but the visual bug does not show on the recording. I would upload but I don't know how to share the Xbox recordings. If told how I would be happy to share that as well as the other pictures I have