I had an idea for a tier list today, and I hope this might start some just for fun discussion. War is hell, and a bloody one at that. But let's say you just woke up inside a suspiciously aoe2-like world one day, with some sort of a motivation to contribute to the safety of your kind new people and the opportunity to be trained in any of their buildings, what unit would you least hate to be?
This would be my rough order (no particular order inside of tiers, if you have an order inside your tiers you don't really need tiers, not listing unique units because we'd be here all day).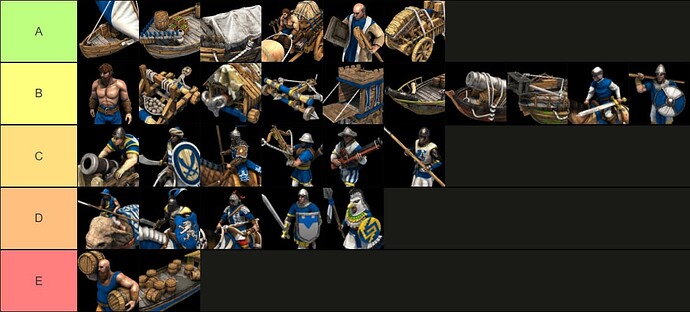 Explanation per category:
Civilians:
Honestly my top pick would probably be living inside one of the buildings where I get to train others. But as they don't take up pop space I'm forced to assume the process is fully automated. So most of my next top picks are the civilians of the aoe2 world. Being defenseless in a war is not great. Still, the life expectancy for these units is decent by the game's standards, and most of them seem to have relatively pleasant ways to spend their time. Whether they're fishing, transporting, healing or trying to talk the enemy out of killing their families. The only one I would not rate among the absolute best options is the villager. Way too much back breaking work. In fact, the mesociv trade cart is probably second rung as well.
Siege:
Manning a siege engine is relatively interesting and presumably well paid work. You get to put some distance between yourself and the bloodshed, and you're generally just not quite as screwed as the poor saps who get to be the target of the siege engines. The very best siege unit to work at would probably be the trebuchet. You often get to fight in the shade of your own castles, and the hp isn't half bad. The worst place in the siege corps is manning the bombard cannon. Not only does is look like an ergonomically taxing position, but if you survive the war you'll probably be deaf.
Ships:
The three types of proper warship all end up in the same tier. The fire ship is pretty much the only unit to which my current skillset even sort of applies if you squint hard enough (and I mean really hard), but it comes with the downside of having to sail up real close to the enemy, and then barely avoid setting yourself on fire while watching and smelling people burn. It's not pretty. The bombard galleon is even worse than the bombard cannon, working conditions-wise, given how much bigger the guns are. But at least here working the dangerous machinery seems to pay off. You are staying out of harm's way a little more than the crew of the other ships.
Cavalry:
Being the original dark age scout seems pretty sweet. Roam the earthly paradise that is the early game map, with nothing that can threaten you except for suddenly appearing town centers. All light cavalry units later in the game have it a little worse, being given the dirty job of stabbing the civilians. This is why the steppe lancer line ranks below the scout line. But hey, at least it's still relatively safe to yourself. The camel rider is still relatively high up because I feel a certain kinship with them. Just me and this foul smelling ill-tempered beast against the world. It feels like a place in the world I could end up in. The position also comes with the benefit that at least theoretically you can run away from any unit that can kill you, and can kill any unit that cab outrun you. The knight line would be the literal poster boys for the aoe2 army, the face on the wall telling you to sign up and do your part. The quarterbacks sign up to be knights, and the movie stars upgrade straight to paladin. That's not my world. The battle elephant ranks near the bottom for a different reason. Apparently real life elephant training is quite a nasty job. More than other animals they have to be broken and made to obey. After that you get to feel like the king of the battlefield on your self propelled throne of killing, sure, but I'd rather ride something I felt was a genuine sort of ally of mine. The soon to be non-unique/released units elephant archer and siege elephant would probably rank pretty low for the same reason, maybe one rung higher because it's so cool to stomp straight through a building. So. Cool.
Archers & co:
If you have to be a ground pounder being a ranged unit is probably the way to go. It's all about archer numbers after all, massing them up. Ranged units get a career, melee units an early grave. The skirmisher role is particularly nice. You get to feel like you're really playing a defensive role, given how bad you are at killing villagers. Having a great big shield and a nice big thrown weapon meanwhile inspires confidence in your abilities and your chances. The reason I put being a cavalry archer near the bottom is this: all of these units have skills I'd need to train hard to master. In fact in this entire scenario I probably die from failing at my job no matter what role I choose. But being a cavalry archer is the hardest of the hard. I would screw that up. Just give that job to someone else.
Infantry:
As much as being melee infantry in general would suck, the spearman line at least has its outlook on life to give comfort. You hold the line. The line is your life. No matter what happens, you hold, because if anyone runs, everyone dies. There's strength in a nice simple philosophy. I don't have any real arguments against the militia line, I'm just not feeling it at all. The eagles meanwhile are more of an "admire from afar" kind of unit. If I'm going to die in the mud I'm not going to spend an hour trying to outrun and outfight a guy on a horse first. Elite troops? Sure. But that's just another term for getting the worst part of being infantry and the worst parts of being a villager in a single package.
Suicide bombers:
Nope. Even with the giant brass balls you'd need to just casually stroll up to a defended castle carrying as many explosives as you can carry, not feeling it at all.
…
So, what would your favorite and least favorite units to be be?