In his latest video, arguably the most knowledgeable person on 1v1 meta- TheViper, said that he ranks Tatars as A tier on Arabia- alongside Huns, Franks, Vikings- civs that are undeniably dominant in the current meta, and will probably get even stronger after we get stats from the latest Arabia rework.
Tatars get a lot of things that would make a cav archer civ not able to play on cav archers- thumb ring for free (huge for CA), good eco bonus (Magyars don't have one for example), decent openings both on scouts and on archers, and the extra damage from hills as a minor buff. They can play on knights in castle age without issues, on camels, on crossbows- they have it all.
Yet, somehow, in raw win%, they still underperform. How?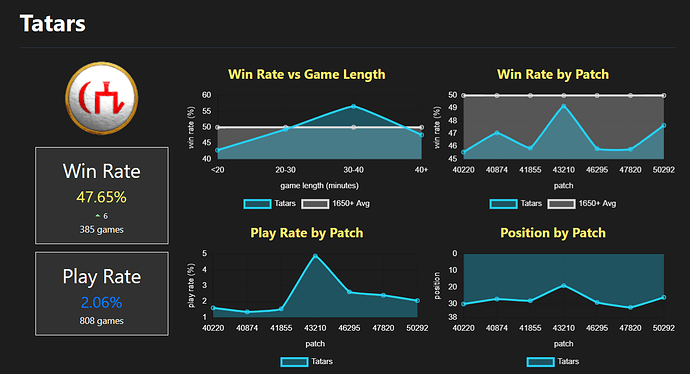 Is it the fact you are required to transition away from crossbows in late castle age? Even then, you can just play on knights and cavaliers. You also get parthian tactics for free so you have an answer to halbs early on. Maybe that in low numbers both crossbows and knights deal with CA very well? Even then, the free thumb ring helps a lot, plus you can open knights, get your eco rolling, and only then go for CA.
In theory they should be the best CA civ right now, maybe alongside Huns. Yet, they are rarely seen in competitive games besides on extremely hilly maps.